Herbalife (NYSE: HLF) is showing no signs of a bottom.
The shares are down more than 25% this week, thanks largely to Pershing Square's activist hedge fund manager Bill Ackman. At an investor presentation in New York, Ackman laid out the case to short Herbalife. The stock immediately sank 14%. The shares fell by another 6% after the presentation.
This stock was also trashed by hedge fund legend David Einhorn in September.
Though the decline has been severe, the fall may have much more left to go.
Despite a meteoric three-year rise from $5.81 to $73, the shares failed to establish any support zones. In fact, the only logical support area is around $23 (blue line), which formed in 2008. Very often previous resistance will act as support once broken. The $23 zone acted as resistance in late 2007 and much of 2008.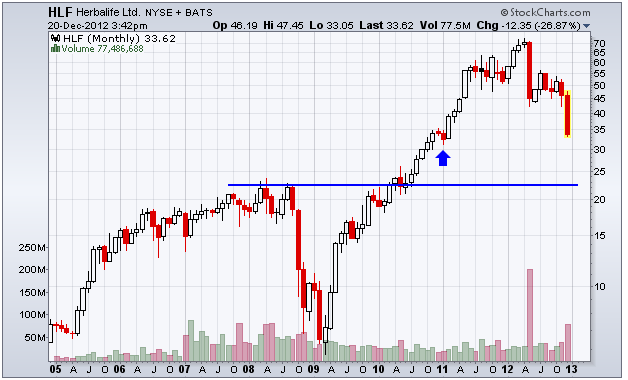 This chart shows the price of HLF shares along with an important support level to monitor.

There should be some temporary support near $32 (blue arrow) to halt this menacing decline. But unless Herbalife can overcome Ackman's assessment, the stock should eventually move down to $23 in 2013.
Ackman is basically calling Herbalife a fraud investment. His exact term was "pyramid scheme." The remarks do not bode well for investors of the company. If he's right, the stock may not stop at $23. It could travel to its cash value of $2.98.
Equities mentioned in this article: HLF
Positions held in companies mentioned above: none