Honda Motors (NYSE: HMC) has failed to make much headway during the past two years. However, a recent victory by newly appointed Prime Minister Shinzo Abe helped pull the shares above $35 and could have paved the way for huge future gains.
Though the stock was trapped in a narrow trading range ($30 to $34) for much of last year, ChartWatch recently noted that Honda was set to break out.
The article listed three reasons to be bullish. First, the shares were cheap, trading at 9.5 times forward EPS. Second, HMC yielded 2.9%. Finally, the victory by Abe would cause the yen to fall, helping Japanese exporters.
Honda is still cheap. The stock has a forward P/E ratio of 10.8 times 2014 EPS expectations of $3.43.
Moreover, the dividend is still high despite the recent rally above $35. The shares yield 2.6% and management expects to increase the dividend by 15% in 2013.
Finally, Abe's victory has already resulted in yen depreciation. The currency has plummeted during the past month. This decline helped to boost valuations of Japan's exporters – like Honda – and it gave the shares the juice to surpass $35 resistance (blue arrows).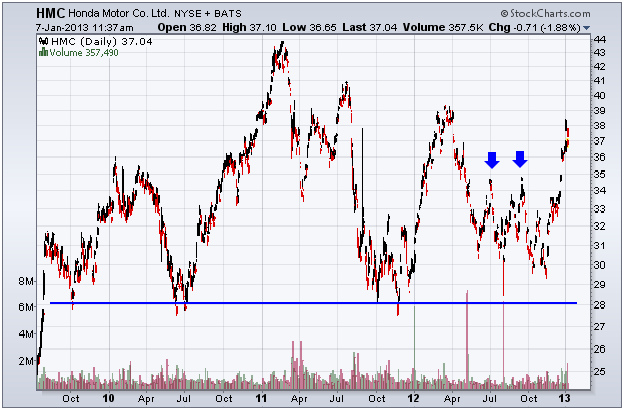 This chart shows the price of HMC shares along with an important long-term support level to monitor.

I've been a long-time bull of Honda. Though the shares didn't climb by as much as I expected last year, they are in a great position to post huge gains this year.
More importantly, the downside for this investment is defined. As previously noted, the $28 level (blue line) has been an amazing line of defense during the past several years. A decline below $28 appears unlikely. So that's your maximum downside potential.
Honda is in a great position to move higher given the low valuation, generous dividend and Japanese political transition. Though $37.50 may be an area of near-term selling pressure, the shares should have no difficulty rising up to $48 within the next 12 months.
Equities mentioned in this article: HMC
Positions held in companies mentioned above: none