LinkedIn (NYSE: LNKD) is one of this year's best-performing stocks. It's risen 45% while most stocks are up around 5% this year. The bullish momentum is likely to continue for this outstanding company. But at what price should investors look to enter its stock?
LNKD is in the midst of one giant rally that has taken the shares 65% higher since the middle of November. More impressively (and possibly more annoyingly) is that the stock has not given up too much ground during the ascent. In fact, the shares rocketed from $120 to $165 without so much as a 4% pullback.
Though a more substantial decline is long overdue, that's been the case for many weeks. Instead, the shares have glided effortlessly higher.
So the best strategy here is patience. It's easy to say that the shares should pull back, but they just haven't – not for many months. Would-be buyers should not be in a rush to buy LNKD either. Yes, this wait could result in missing out on another move higher. Even if the shares pump to new highs, the likelihood for a decline is high, making now a risky time to purchase.
However, there is hope for potential buyers. The stock has been very responsive to the 50-day moving average (orange line). This was something I noted in a previous ChartWatch alert.
At the time, I made the wrong call. It looked like the shares were about to hit the 50-day moving average and turn lower. However, the opposite happened, and a fresh buy signal was given. Traders and I needed to reverse course because the 50-day moving average has often been a precursor to a major move.
On several occasions (blue arrows), the 50-day moving average has acted as a critical support or resistance zone that (in many instances) resulted in a swift move. The same is also true when the price crossed that trend line. Broadly speaking, LNKD has increased when the shares broke above the 50-day and declined swiftly when the stock fell below the 50-day.
More important than the reversals is how attracted LNKD is to this trend line. The 50-day has been a virtual magnet. In fact, the stock rarely moves substantially above or below the trend line. Instead, it traverses near the trend line, moving in the same direction – be it up, down or flat. Since LNKD is so far above the 50-day, and because it's been three months since the stock and trend line have touched, expect the shares to halt their bullish advance. However, so long as the shares remain above this trend line, use it as a support level and expect that LNKD will move higher over time.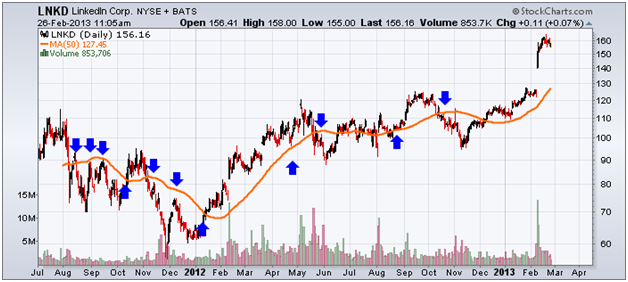 This chart shows the price of LNKD shares along with an important trend line to monitor.
Equities mentioned in this article: LNKD
Positions held in companies mentioned above: