Insiders are impeding the bullish progress of Facebook (NASDAQ: FB) stock.
On August 16, 271 million shares were freed from the IPO lockup period and another 243 million became available between October 15 and November 13. The stock may not have declined since August 16, but thanks to insider selling the shares haven't appreciated by much either.
During the past three months, insiders sold more than 172 million shares compared to roughly 78 million purchased. This activity has kept the stock trapped in a trading range during that period.
As I noted last month, the stock looked to be making a bottom in the vicinity of clear support near $19 (blue arrows). Though that support zone remains intact, there is strong selling pressure at $24 (blue line). Thus, a trading range.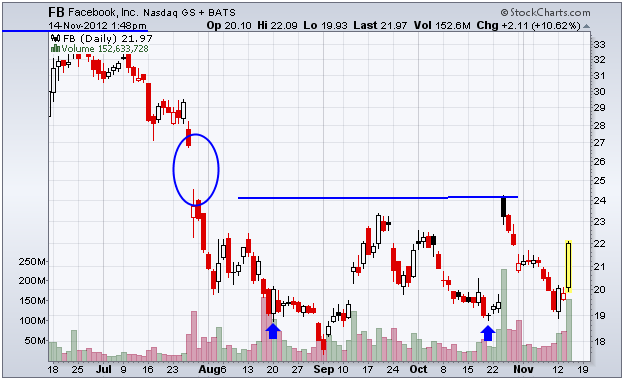 This chart shows the price of FB shares along with an important resistance area to monitor.
The company reported excellent financial results in October. More impressive than the numbers was the confidence and optimism CEO Mark Zuckerberg expressed about the mobile advertising segment.
The positive earnings and guidance news launched FB to $24 overnight. Moreover, it appeared that the stock was ready to move beyond this tricky resistance level and close the big gap left over from a July slide (circle).
In fact, I believe the fundamentals are robust enough to bring the stock back up to $27. The key hurdle for FB is no longer financials, but overcoming an incredible amount of insider selling. Unfortunately, the worst of this selling may be coming soon.
The floodgates opened today when more than 800 million insider shares were unlocked.
The recent fall from $24 to $19 is clearly based on the belief that insiders will panic and sell today. However, if insiders stay the course as Zuckerberg has said he would do, then FB could rip right back to $24 – it's already started to make that move.
I decided to buy FB again because I don't believe that insiders will rush out of their holdings near the $19 support zone. I have also sold put options with a strike just below this zone. My stop loss for the trade is $18.98 (for now), and I may use covered calls with a $23 strike later this week.
Besides FB, I think Apple (NASDAQ: AAPL) is another undervalued stock that's due to rebound and I will be preparing a full research report on it for readers of my Top Stock Insights service.
Equities mentioned in this article: FB, AAPL
Positions held in companies mentioned above: FB