Vikram Pandit abruptly resigned as CEO of Citigroup (NYSE: C) on Tuesday.
Naturally, the Pandit resignation sparked a flurry of possible explanations.
Some analysts believe he was fired. There were some rumors that Pandit was displeased with his pay. Many reports offered that a dispute among board members was a reason for his resignation.
CEOs do not normally step down from their posts abruptly. In fact, because of the rarity, investors often view unexpected resignations of key employees as a sign of trouble within the firm.
Typically, the shares of a company will fall when a key member suddenly leaves. Investors view the departure as a sign of weakness and lose confidence.
However, Citigroup investors reacted in just the opposite fashion.
The shares of Citigroup actually rose more than 2% Tuesday and surged more than 3% in Wednesday's session.
Those gains followed a 5.2% increase on Monday after Citigroup posted impressive third-quarter earnings results. The stock is up more than 10% this week.
This rise in price following bullish financial data and a CEO resignation should have shareholders optimistic that the shares will finally break their 15-month trading range (blue lines). Volume has also been increasing during the rise, which indicates there is conviction behind the ascent.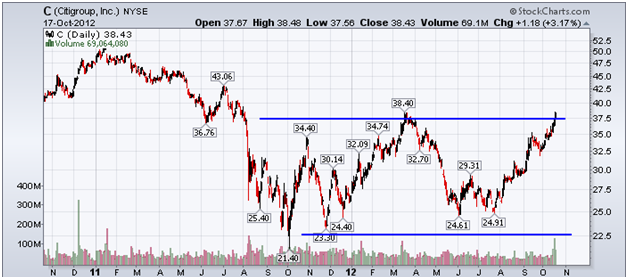 This chart shows the price of C shares along with an important channel to monitor.

Though there should be mild resistance near $38, I expect a ride to $40 before any major pullback occurs. Any pullback should be contained by support near $35, with $32.50 being a must-hold area for the bulls.
I'm looking for Citigroup to free itself from the dreaded trading range and begin a new bullish phase. My 12-month target is $48 or 25% higher than the current share price.

Equities mentioned in this article: C