This stock refuses to break $76, which may indicate a rally to $93 is around the corner.
Air Products and Chemicals (NYSE: APD) has a fantastically stable business. Its stock seems to be as rock-steady too.
APD provides gas and other services to 25 separate industries. However, the customer exposure in natural gas and LNG stations could spur huge earnings growth over the next few years.
The company helps turn natural gas into a liquid form. Since natural gas prices are so cheap in America, many foreign companies hope to use it as a primary energy source.
LNG is natural gas in liquid form. When it's in liquid form, natural gas is more economical to export.
Liquefaction will no doubt be a big business in years to follow, especially with higher oil prices.
APD's energy and equipment segment recorded $3.7 billion in revenue last year, which represents about a third of its $10.1 billion total sales. The growth potential from this segment alone has likely kept the shares above $76 (blue line).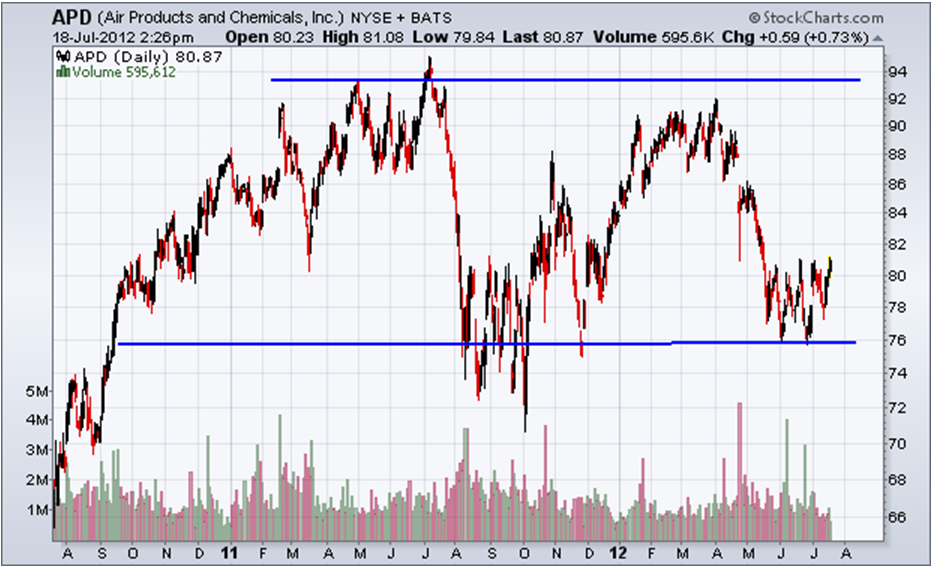 This chart shows the price of APD shares along with an important support area for you to monitor.
This isn't the first time buyers protected $76. The shares also held this level last year on several occasions, indicating that there is strong investor support for Air Products in the region.
Stock owners are unwilling to sell at a price much below $76. More importantly, buyers typically come in below $80, occasionally resulting in a slow ascent to $93.
Though bullish enthusiasm near $76 probably stems from bargain hunters, management's 30-year streak of raising dividends doesn't hurt.
Air Products and Chemicals is a value stock in a growing industry. Its shares also trade at a price that hasn't been broken in two years, making this a perfect entry point.
A rise in share price is likely over the next three months. Shareholders can even collect a 3.2% annual dividend yield while waiting.
Equities mentioned in this article: APD.