The shares of Las Vegas Sands (NYSE: LVS) suffered mightily last month. In fact, this casino stock has now fallen for four consecutive months.
Readers of a recent report on LVS were privy to this likely decline back in early July. The call at the time was to be prepared for a 9% decline and use the retreat as a buying opportunity.
Now that the minimum decline was met and exceeded (blue line of channel support), is this an opportune time to take a position in LVS?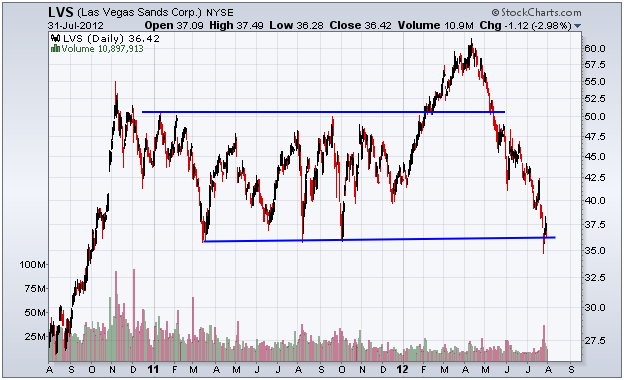 Though recent investors have been unlucky with their returns, LVS remains a valuable company to own because it operates in, what some may call, a "recession proof" business. It's a casino operator.
People tend to gamble about the same, in good times and bad. This keeps profits and sales even paced throughout economic cycles.
The house always wins.
In addition to its strong business model, the shares come with a 2.75% yield, putting the implied return on par with Treasuries. However, that return ignores the value of the stock, which may also appreciate.
This isn't a trade. LVS is a great buy below $40. And I would be looking to see $50 next year.
Regardless of the recent earnings miss, the stock is undervalued. LVS trades at 15 times EPS, which is 20% below the industry average.
However, the short-term trend for the shares is bearish. While I do not anticipate them falling substantially, expect mild declines until this negative trend reverses its current course.
Also, keep in mind that once the shares find a bottom, a V-shaped recovery is unlikely (unless Macau business strengthens). LVS is too big to rip right back up to $50. I expect choppy activity as the bearish momentum fades away.
This choppy action will set the stage for a gradual ascent over the next several months.
So long as the buy-and-hold strategy fits your portfolio, this is a great time to be accumulating LVS.