Over the past several weeks, Netflix (NASDAQ: NFLX) received a year's worth of attention and price action.
First came the dismal earnings announcement on October 23, when the company announced income dropped by 88% during the third quarter. Moreover, customer signups of 1.16 million missed the analyst estimate, causing the shares to plunge 12% in the next session.
Three days later, Forbes and other outlets reported rumors of a possible takeover by Microsoft (NASDAQ: MSFT). The rumors alone caused a 13% spike in the stock. Microsoft denied the rumors the following day, saying they did not intend to buy out Netflix.
However, the takeover threat wasn't over. On October 31, news spread that activist investor Carl Icahn had taken a nearly 10% stake in the movie and streaming company. The stock jumped as high as 21% after his ownership was confirmed.
Finally, to protect itself against hostile takeovers and restore sanity to the shares, Netflix's Board of Directors adopted a shareholder rights plan. Commonly known as a poison pill, the rights plan effectively blocks certain takeovers. The plan comes with a provision that, if triggered, releases additional shares, making a takeover too expensive.
Though a takeover may not be in the cards, NFLX appears to have further left to rally.
Last month, I mentioned that the shares were poised to move above $80 once the blue line (below) started to provide support for the stock. Now that the shares achieved my first price target, I'll be looking for them to rise to $105.
To clarify, I'll be looking for NFLX to close above $80 and have volume increase to determine if the stock is on its way to $105. Ideally, the shares would stay above $71, too.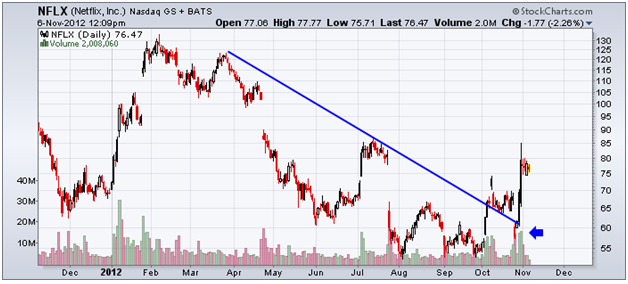 This chart shows the price of NFLX shares along with an important trend to monitor.

Equities mentioned in this article: NFLX MSFT