After rallying strongly to start the year, casino stocks have been rolling craps since April. Most of the year's early gains are now gone, and the charts indicate more declines are to be expected.
Though I like Las Vegas Sands (NYSE: LVS), it's not the time to gamble on the stock. Let me explain …
In February, the shares broke above a lateral channel pattern (blue lines) on low volume. The target from this breakout was $67 and the shares fell 10% shy of that mark.
However, the failure to reach the price target did not concern me nearly as much as the lack of investor support near $50.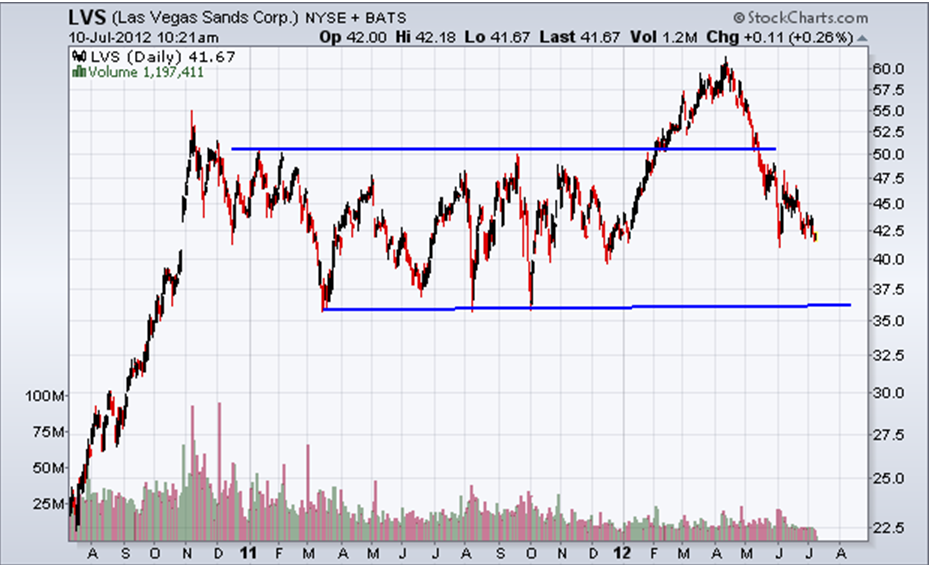 This chart shows the price of LVS shares along with an important support area for you to monitor
When a stock breaks out of a consolidation pattern, old resistance will typically become new support or old support becomes resistance. It depends on the breakout direction.
In the case of LVS, the shares blasted through $50 resistance. Accordingly, the shares should have found support near $50 following the breakout.
Instead, the stock slipped below this level in May. Such a slip often indicates the previous breakout was a head fake.
Chart patterns do not work all the time. Traders and investors need to recognize when a pattern fails and what that means for their positions.
In a failed upside breakout, a stock could retreat all the way back to a previously established support zone. For LVS, the next support area is $36.
I am a big believer in LVS and casino stocks as an investment. Not only do they generate positive cash flow, they tend to hold value well during recessions. And LVS pays a 2.3% yielding dividend.
But I have to go with the chart for now. I want to see the shares fall another 9% or more to support before I'm interested in buying.
Equities mentioned in this article: LVS