Panera Bread (NASDAQ: PNRA) may provide fresh food, but its stock looks stale.
ChartWatch doesn't typically follow restaurant stocks, although the column did present the bearish case for Chipotle (NYSE: CMG) in December. Restaurant stocks are volatile and prone to violent shifts because margins and sales can turn on a dime due to rising commodity costs and consumer whims. It's a tough business.
Though the restaurant industry is challenging, Panera has done a tremendous job of gaining market share and achieving profitability. In fact, net income climbed 27% to $173.4 million in 2012.
Analysts are positive about future results, too. Analysts expect Panera to earn $7.04 per share this year – a 19.5% increase from last year. More impressively, that earnings growth outpaces the 14.6% growth analysts expect from sales.
Though the expectations are positive, investors seem to have priced it into the shares. PNRA has a P/E ratio of 24 and the stock has hardly budged since September.
The shares have been trapped in roughly a 10% range (blue lines) from about $155 to $170 during the past seven months. Not even two analyst upgrades were enough to definitively overcome $170 resistance this morning.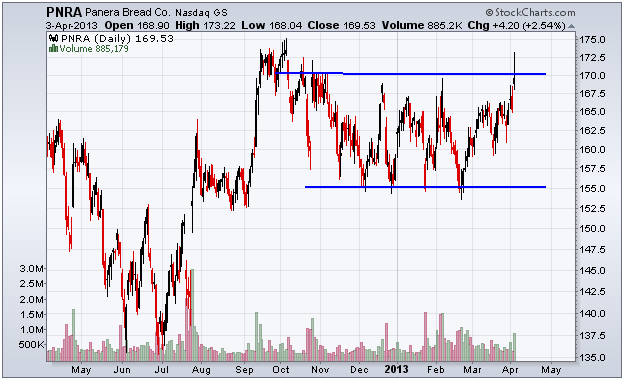 This chart shows the price of PNRA shares along with an important price channel to monitor.
Though consolidation phases are normal and healthy, I'm concerned about the laziness of the stock. PNRA has been unable to garner bullish momentum since October. Meanwhile, most stocks have raced higher during the same period.
Investors seem unwilling to pay a premium for PNRA. That could be because of its high P/E ratio, the fact that it doesn't pay a dividend or both. Whatever the reason, the shares appear trapped below $170. Now may be a great time to either sell your position or short sell the stock, expecting a decline to $155. Stops can be placed slightly above $175. Thus, the risk is five points while the reward is 15, giving this trade setup a healthy 3-to-1 payoff ratio.
Equities mentioned in this article: CMG, PNRA
Positions held in companies mentioned above: PNRA