Priceline.com (NASDAQ: PCLN) ripped 17% higher in one week, closing October on a strong note. The advance higher followed news that the company crushed third-quarter financial results, announcing EPS and revenues ahead of analyst expectations.
Priceline.com reported EPS of $11.66 – beating the $11.47 estimate – and a 17% increase in sales to $1.7 billion. The company has averaged revenue growth of 29.2% during the past five quarters.
Bigger than the actual numbers was the bullish guidance from management, which said that European business was exceeding expectations and the global hotel business remained quite strong. Management expects EPS between $6.12 and $6.57 for the fourth quarter. Analysts are expecting EPS of $6.32 from sales of $1.14 billion.
The positive financial data sent the shares back up to a key resistance level near $640. Once lost, previous support will very often begin to act as resistance. We can see from the blue arrows in the chart below that this flip-flop happened to PCLN.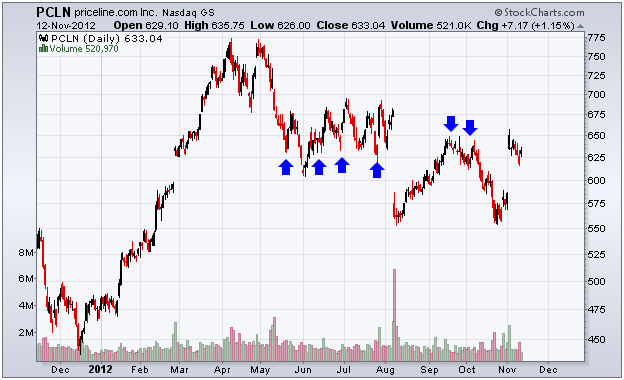 This chart shows the price of PCLN shares along with an important resistance area near $640 to monitor.
I took a bullish position ahead of the earnings announcement following Expedia's (NASDAQ: EXPE) report. Expedia is a competitor to Priceline.com. They blew away analysts estimates days before Priceline.com's earnings release. The positive news from the competition was a warning to traders.
Though my price target for PCLN is 7% higher – about $680 – I'm attentively watching the price action around $640. My expectation is that the shares will break out above $640 and stage a 6.2% advance. However, a failure to trade above $640 this week would lower my expectation. It might even take me out of the trade entirely.
Recent weakness due to the fiscal cliff and European woes has taken the indices lower. This negativity likely kept PCLN buyers at bay the past few sessions.
The indices appear ready to turn and that should mean great things for PCLN shares. Furthermore, the PCLN chart looks eerily similar to an Amazon.com (NASDAQ: AMZN) chart I covered six months ago.
New buyers can take a new position with a stop of $616. Once the shares move above $640, I'll be increasing my stop loss to $626.
Equities mentioned in this article: PCLN
Positions held in companies mentioned above: PCLN