It may be the perfect time to buy Amazon.com (NASDAQ: AMZN) stock.
In September, I was quick to point out that the shares needed a correction. Though I had been a huge proponent of AMZN for the better part of the year, the stock went too far during a summer rally without a pause. This meteoric ascent set the stage for what I deemed could be "a massive downside retreat."
At the time, AMZN floated around $260. It stayed near that price for a couple weeks following my analysis. However, the stock declined by 11.5% after the shares lost their 50-day moving average (orange) in October.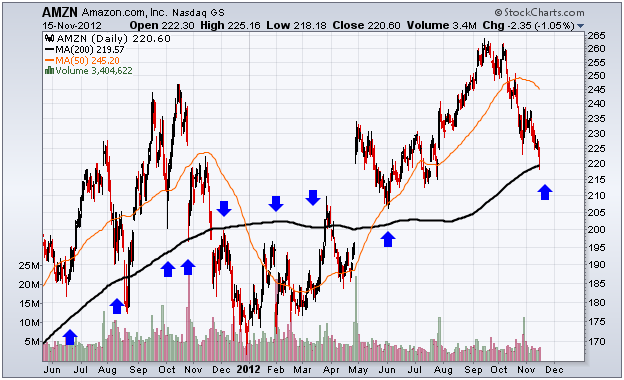 This chart shows the price of AMZN shares along with an important support area to monitor.
Though the shares have dipped lower in recent weeks, the decline should reverse course. AMZN has shown a remarkable ability to change trend near the 200-day moving average (black) over the past 18 months (blue arrows).
It's also critical to note that the shares do not have to touch the 200-day moving average before turning around. In fact, on many occasions, the stock drifts within a few percent of this trendline prior to reversing direction.
With AMZN less than 1% away from the 200-day moving average, now could be another great time to buy the stock.
Equities mentioned in this article: AMZN
Positions held in companies mentioned above: None