IBM (NYSE: IBM) may be the leader in the business services industry, but its stock is vulnerable to a large decline.
The shares have stabilized after a 12% decline dropped them to $185 from $210. Though IBM has risen back above $193 during the past month, the shares will have a tough test in the days ahead.
The $196 area could be the highpoint in this latest recovery, and the shares could be days away from starting another leg down. Not only has this zone proven to be an area of selling pressure in the past, the 50-day moving average (orange) has curled down to this level to add another layer of potential resistance.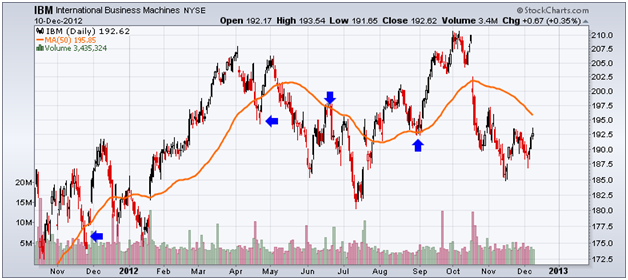 This chart shows the price of IBM shares along with an important moving average to monitor.
The 50-day moving average is somewhat of a double-edged sword. It's acted as a rally stopper and rally starter – something already noted in a previous ChartWatch report.
IBM has the chance to take back the 50-day moving average and begin a new upward trend. Also, the shares are still cheap, trading at 12 times EPS, which could attract some large investors. So there is reason to be hopeful that the stock can rally.
However, I suspect this won't be the case. The chart shows that during the past year the 50-day moving average has supported the trend (be it bull or bear) at the first opportunity following the breakout or breakdown from the 50-day moving average.
Sometimes it took months, other times weeks. Yet in the previous four backtests (blue arrows), the 50-day has supported the trend each time, sending IBM toward a new rally high or low.
I expect the same will occur this December as the stock moves toward the $196 zone. Since the trend is bearish, I'm looking for sellers to reject the latest rally and take the stock below $185.
In this line of work I'm constantly reminded that there's a first time for everything, although I'm not betting on it this time around.
Equities mentioned in this article: IBM
Positions held in companies mentioned above: none