Facebook (NASDAQ: FB) could top soon.
The shares have rallied incredibly well during the past three weeks. In fact, that rally is small when compared to the 60% run FB has made off the November lows.
More impressively, ChartWatch predicted this exact climb would occur.
ChartWatch mentioned it was not too late to buy Facebook, in an October article. Then a November article stated FB was on its way to $27. The stock was $22 at the time. My most recent December article concluded by saying, "I expect to be able to sell the position [FB] above $33."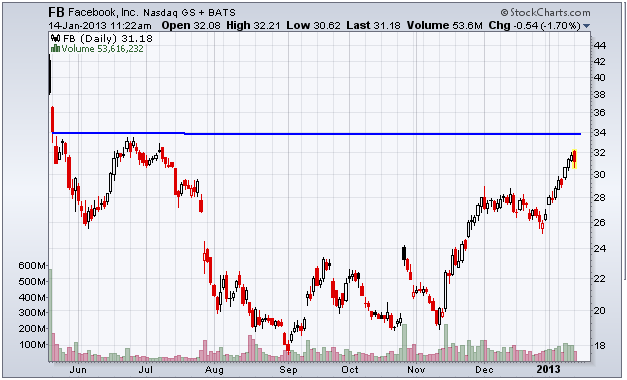 This chart shows the price of FB shares along with an important resistance level to monitor.
Though I've been bullish about FB during the past four months, the highs of this rally draw near. In fact, I may sell my entire position this week.
The social networking giant teased investors last week by saying that it would hold a special media event on January 15. The shares tacked on 10% following the announcement as speculators placed bets that it would reveal something big.
Experts offered a wide variety of wild theories as to what Facebook will unveil. Some believe the company will announce a new gaming initiative. However, others believe FB will show off a new strategy involving their $1 billion purchase of Instagram. A few experts even think Facebook developed a smart phone.
The shares are running too hot into the event and they're setting up for a "sell the news" situation.
I'm still a grateful owner of Facebook from a $19 entry. However, I've sold call options with a $30 strike against my position to protect the trade from a decline.
The $34 resistance level (blue) should put a lid on price appreciation. So the upside is small.
Though I believe the stock will find support above $29, the $27 area is the nearest support zone. If I'm wrong about the $29 area, FB could have a 12% decline in its future.
Equities mentioned in this article: FB
Positions held in companies mentioned above: FB