First Solar (NASDAQ: FSLR) still hasn't been given the praise it deserves. Despite a meteoric rally to end the year, analysts remain bearish.
The majority of them rate FSLR a hold. Meanwhile, the average price target is $23, 35% below the current market price. How are the shares a hold at $35? Analysts are clearly in denial.
Though the Street missed the boat, ChartWatch readers didn't.
ChartWatch has been a proponent of FSLR since October. In fact, I pointed out the pennant (blue lines) as a bullish development, going so far as to say, "the stock may increase by 50% before year's end."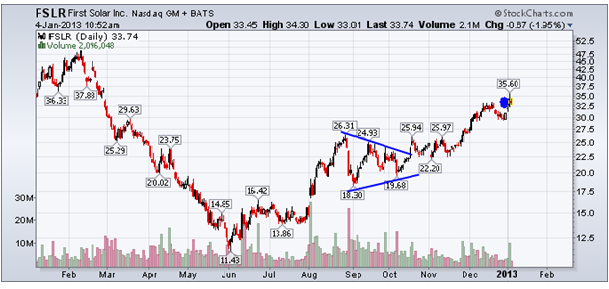 This chart shows the price of FSLR shares along with an important resistance level to monitor.
I confirmed this view in a more recent December article. At the time, the stock was around $27 and I still expected $34 (blue dot).
Only one day into the new year and FSLR has ripped through my price target. So do I think it has more room left to climb? Absolutely.
The $40 area represents heavy resistance and will be a tough price to breach. However, the shares appear ready to at least challenge this zone.
Realistically, $32.50 should support the stock in the near term. And based on the high volume accumulation activity, bullish traders should bid FSLR up to $37-$38. However, this stock is volatile and eventually a larger pullback should ensue, giving long-term investors a chance to buy at a lower price. I'd view any pullback as a buying opportunity, with an entry price near $30 as optimal.
Solar stocks will continue to surprise investors this year and FSLR is the safest stock within that industry.
Equities mentioned in this article: FSLR, TAN
Positions held in companies mentioned above: none