Investors are fired-up about solar stocks again.
After an embarrassing first half of the year, most solar stocks have been stable since July. That stability came as a relief to many green investors who have endured share losses of over 90% in certain cases.
I'm a big believer in solar as an investment. It's clean and panel prices are starting to come down as input costs decline.
However, facing a worldwide budget crisis and a general lack of funding, solar investing for the long term is a risky endeavor.
Though the buy and hold strategy is a risky approach, solar stocks may bring quick profits to a savvy trader.
Many former solar stars such as Canadian Solar (NASDAQ: CSIQ) and First Solar (NASDAQ: FSLR) are looking brighter and accumulated a tremendous short interest. This means that an abundance of investors short sold the shares, creating a gem of an opportunity to take a counter trade that profits as short sellers rush to cover open positions.
My favorite trade to make from the sector is buying SunPower Corp (NASDAQ: SPWR) stock, which is recovering from a fall that took the shares down from $9.54 to under $4 this year.
Though its price has been volatile lately, the SPWR chart shows a series of higher lows formed since August. The higher lows indicate buying pressure is increasing because investors are willing to accumulate at gradually higher prices.
And bullish traders should take note.
SPWR has some resistance near $5. However, I expect this will break before November. Once that resistance zone breaks, look for a quick ride to the flattening 200-day moving average (orange line), which is a full 20% higher than current prices.
Traders can initiate a long position anywhere under $5 with a stop loss at $4.25. Though the 200-day moving average is my primary target, there is a great chance that SPWR can rally 35% higher and to a more formidable resistance area near $6.20.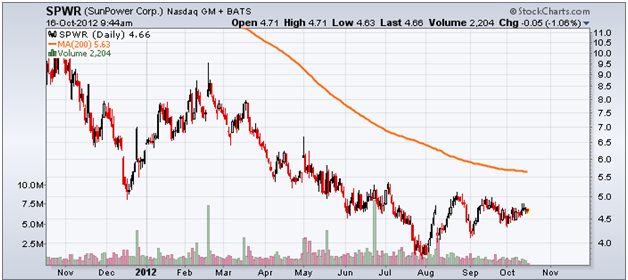 This chart shows the price of SPWR shares along with an important moving average to monitor.
Equities mentioned in this article: FSLR, CSIQ, SPWR