Investors continue to worry about a hard landing in China and an overall slowdown in the Asian economy. However, there have been few signs (on paper) to validate those concerns. Long-term, the Asian economy will be fine and should continue to be a high growth region, despite the current trepidation.
One economy in Asia that I think could be in for a big rebound is Japan. Over the past few years the Japanese economy has had to battle a rising yen.
After moving horizontally from 2004 to 2007, the yen went on a big rally over the past four years. Since a low of around $82.50 in 2007, the yen ramped 60% to $131 in December. Because Japan's economy is largely driven by exports, a rising currency makes it less competitive on a global basis.
A top to the yen looks to have formed in February. Accordingly, the Japanese economy and major exporters, such as Honda (NYSE: HMC), should recover as their exports become more competitive.
Even without the help of the currency, the shares of Honda are cheap (trading at 10 times trailing EPS) and due to bounce. In June, the shares tested a major support zone (blue line) and popped 7% from $31.
Over the next few months, that support zone should hold. Additionally, any extreme weakness in the yen should drive Honda back near $40. Based on valuation, Honda is likely worth $48 per share; however, it could take a full year (and a cooperative market) to reach that target price.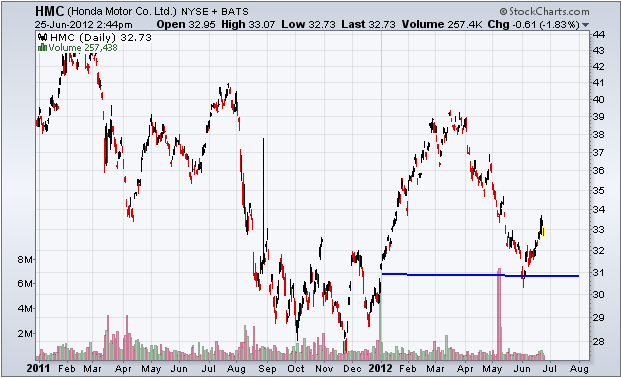 This chart shows the price of Honda Motor shares along with an important support area for you to monitor
Equities mentioned in this article: HMC