Netflix (NASDAQ: NFLX) has by far the most interesting chart I've seen in a while.
No doubt, NFLX shares have confused investors for some time. In fact, confusion and this stock go hand in hand.
The three-year ride from $17.90 to $304.79 had investors shaking their heads the entire way. And the 5-month plummet from $304.79 to $62.37 left many buyers cross-eyed.
Netflix's chart has confused investors and traders for years. If there's something to be said for this consistency, then I'm happy to report that NFLX's chart is more confusing than ever.
Back in June, I thought Netflix looked good. And the stock ripped from $62.50 to $86. Though this appeared to be an important bottom, the shares quickly reversed and nosedived to $52.80.
However, the $55 area proved to be sturdy support in August and September. This support area eventually triggered a nice upward surge to $74 after well-known fund manager Whitney Tilson proclaimed NFLX one of his three favorite stocks.
The jubilation spurred by Whitney didn't last too long. Though the shares enjoyed a 28% surge to $74.23 in merely four days, they tanked back to $57.40 following a poor earnings announcement this week.
Typically, a stock falls after a company misses its earnings expectations. And that's exactly what happened to NFLX this week. Well … sort of …
The stock dropped from $68.22 to $57.40 following poor earnings data. But the shares bounced all the way back to $70 only two days later (blue arrow).
Not only is it rare for a stock to bounce back this quickly from tepid earnings, NFLX actually moved higher than the pre-earnings price. Though earnings were terrible, investors moved on quickly. Moreover, the bearish trend holding the shares back appears to be over.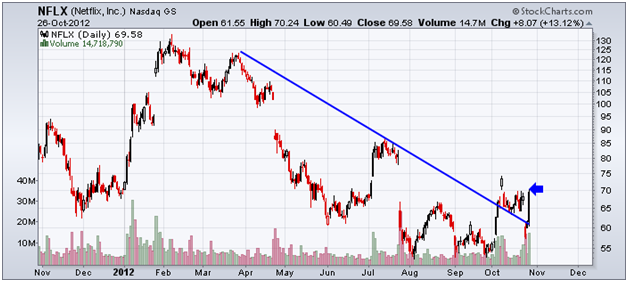 This chart shows the price of NFLX shares along with an important resistance area to monitor.
On a huge high-volume gap, NFLX broke above a bearish declining tops line (blue) in early October. Despite the negative earnings news (and a 12% decline), the shares have stayed above this important trendline ever since, indicating the bearish trend is likely over.
This may mark an important development, and one that could pave the way for another huge rally. A move above $70 will signal that the shares are ready to burst to a more formidable resistance level near $80. Should the rebound rally this week portend a major bottom, the shares could be on the way back to $105, or about 50% higher than their recent price.
Equities mentioned in this article: NFLX