TIBCO Software (NASDAQ: TIBX) disappointed investors last week, missing revenue estimates and reporting inline EPS numbers.
The big data company reported revenue of $237 million, slightly below the $242 million expectation. EPS came in at $0.18 per share, meeting the analyst estimate for the first quarter.
Technology earnings have been weaker in recent quarters as businesses conserve cash. In fact, the earnings growth rate of the information technology industry for next quarter has been reduced to -3.6% from 1.4%. Moreover, the $85 billion in government spending cuts will further lower information technology sales in coming quarters since the Federal government accounts for 9% of global IT spending.
Analysts have already sliced their forecasts for TIBX following the first-quarter earnings report. The 2013 EPS estimate dipped to $1.08 from $1.21, while the 2014 estimate was reduced to $1.27 from $1.41. Curiously, 15 of 22 analysts rate TIBX a buy, up from 14 last month.
Naturally, the reduced forecast and missed estimates plunged TIBX lower last week. Though the shares recovered from being down 20%, the stock finished 12% lower for the week.
Despite the fall, TIBCO owners don't have too much to fear. The $19 level has proven to be an area that can halt nearly any decline (blue arrows). In fact, this support region has been a turning point during three severe declines. So the current decline – from $24 to $20 – should be easy to stabilize by comparison.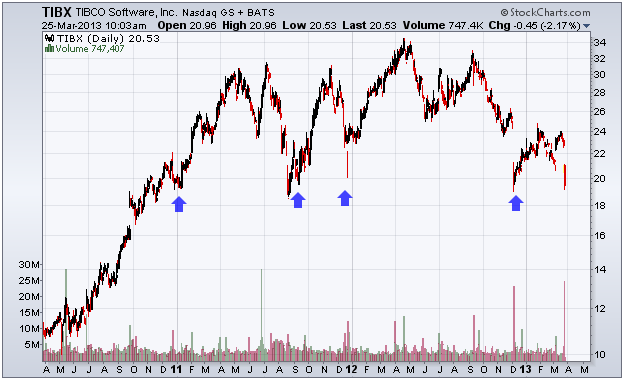 This chart shows the price of TIBX shares along with an important support level to monitor.
Though a slowdown is expected for tech earnings, global IT spending will likely approach $2.1 trillion this year. And roughly 26% of that amount will go toward software systems – the likes of which TIBX provides.
Moreover, vast amounts of data are being stored and created each day. Companies have more access than ever to large amounts of data, but they face the hurdle of collecting, processing, connecting the dots and gleaning insights from it. TIBX helps companies make use of data, and I expect that their business will be healthy for a while, despite the near-term weakness.
Equities mentioned in this article: TIBX
Positions held in companies mentioned above: TIBX