Trulia.com (NYSE: TRLA) hit the ball out of the park during yesterday's earnings, and the stock is up by more than 26% this afternoon.
ChartWatch highlighted the company last week. In fact, I labeled it one of the best housing stocks, and expected the shares to move above $30.
As previously mentioned, the big area to watch was the two support zones (in blue). TRLA found support exactly where expected. The $24 level should be incredible long-term support given today's ascent, although I doubt the shares will make their way back down any time soon.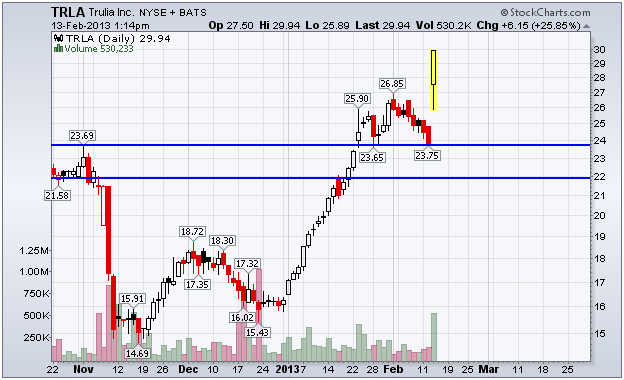 This chart shows the price of Trulia shares along with important support levels to monitor.
Trulia remains a cheap stock, despite a 100% rally from November. I think it can hit $36 before the year is through.
Though the company does not generate positive income, it's a sales-growth machine – as I mentioned to readers. Revenue ripped 75% higher last year. Moreover, the company generates positive operating cash flow and had positive EBITDA.
The company's largest revenue source comes from subscriptions. Real estate agents pay a fee to gain exposure to Trulia's 23 million users. So revenue per subscriber is the most important metric to track because it confirms the value of Trulia's service – and it was up big again in the most recent quarter.
Trulia is truthfully one of my favorite stocks. I acted on that opinion, too. I advised readers of my Top Stock Insights service to purchase the stock Tuesday morning – ahead of today's big move.
This is actually the second earnings trade conducted in our portfolio this season. The first was Qualcomm (NASDAQ: QCOM), which later ripped 5.5% higher after reporting positive results and increased guidance. Top Stock Insights has 21 positions in the portfolio and 17 show gains – six of which are up by more than 25%.
Equities mentioned in this article: TRLA, QCOM
Positions held in companies mentioned above: