Ignoring the news may be the best way for you to succeed as an investor.
While everyone is talking about gun control, Apple's stock price and the fiscal cliff, one huge sector of the world economy is in the middle of a huge uptrend.
Over the past year the iShares MSCI South Korean Index (EWY) has rallied roughly 25%, yet I haven't read or heard one snippet of news about impressive gains. Have you? I doubt it.
Could it be the global popularity of Gangnam Style? Probably not. Much of the rise has come on the back of its big brother … China. China is South Korea's single largest trading partner, accounting for a quarter of its exports.
The top brand names that are exported out of South Korea – such as Samsung, Kia and Hyundai – have also given the country a decisive edge this year. Samsung accounts for about one-fourth of the world's cell phones, while Kia and Hyundai are both among the top-6 most-profitable automakers in the world.
All three of the aforementioned companies have large allocations in EWY. In fact, about 22% of the ETF's holdings are allocated to Samsung, while Hyundai takes 5.6% and Kia 2.8%.
So now that we have some background, how as self-directed investors how can we take advantage of the extended move?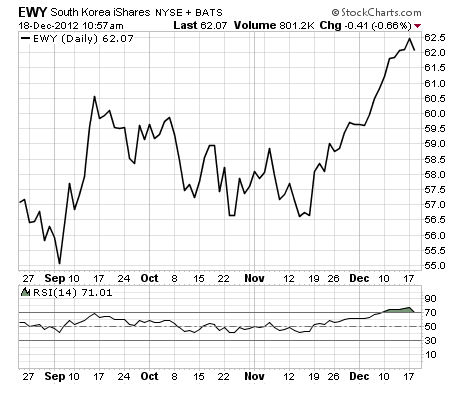 Well, by looking at the chart I certainly would not be buying South Korea (EWY) at this juncture. I never buy anything that is overbought. As you can clearly see in the chart above, the RSI (14) has pushed into a "very overbought" state. Typically when an underlying stock or ETF reaches this type of overbought extreme, a reversion to the mean occurs. That being said, a move back to the $58-$60 range would not surprise me, and at that point I might step in and buy a few shares.
Admittedly, this is the ideal set-up that I look for within my Options Advantage service. I start with my list of 40 or so highly liquid ETFs (EWY is on the list) and then look on a daily basis for an extended move into an overbought or oversold state.
Once an extended move occurs, like we have recently witnessed with EWY, I use an options strategy known as credit spreads. I actually discussed the EWY trade earlier this week in one of my weekly videos (view here).
If you are interested in the trade, I will be discussing it at length in my free weekly e-letter – The Strike Price – this weekend (sign-up here).
But for the non-options crowd, waiting for a pullback is the answer in my opinion. And with the prospect of China taking over as the world's leading economy, you can bet that South Korea will be riding their coattails. Indeed this could be an investment well worth your time.
Kindest,
Andy Crowder
Editor and Chief Options Strategist