There's not much to like in the commodity world right now.
Gold, silver, copper, natural gas – all of them have been in a downward spiral of late. Oil is the most high-profile exception. But it's not the only commodity that's thriving.
Corn is making its annual summer move, reaching its highest price since March. Corn prices are up 12% since mid-June, rising at a time when gold is down 10% and soft commodities such as coffee are off 8%.
If you're a commodity investor, perhaps the best way to play the surge in corn prices is to buy the Teucrium Corn Fund (NYSE: CORN), an ETF that gives investors direct exposure to corn. Teucrium has been slow to get going despite corn's recent run. The fund bottomed on July 5, but has promptly shot up 5% in the last two trading sessions.
With Teucrium's performance trailing corn's, perhaps it will have a bit more room to run over the next few weeks – even if corn pulls back. If the last two years are any indication, corn's run is likely continue into August. As the below chart reveals, each of the last two summers corn went on a major run that lasted well into August: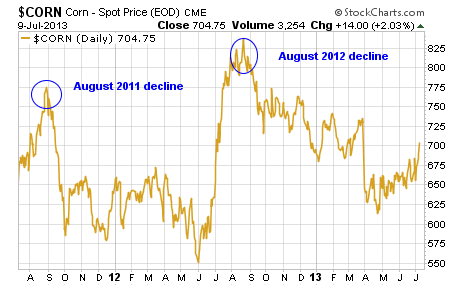 So if you're a short-term investor in search of a commodity play, it may not be too late to get in on the corn rally. Given the other options in the commodity world right now, corn may be your best bet.