Several months ago, I revealed a unique technique self-directed investors use to safely generate 8%-12% income streams on their retirement savings annually.
In a yield-starved environment, this strategy has been a blessing.
The strategy is called "selling covered calls." If you aren't using this strategy you're missing out on THE most compelling and low-risk income investing strategy.
Over the past year alone, this income secret could have doubled your dividend payouts from some of America's biggest and safest blue chip stocks.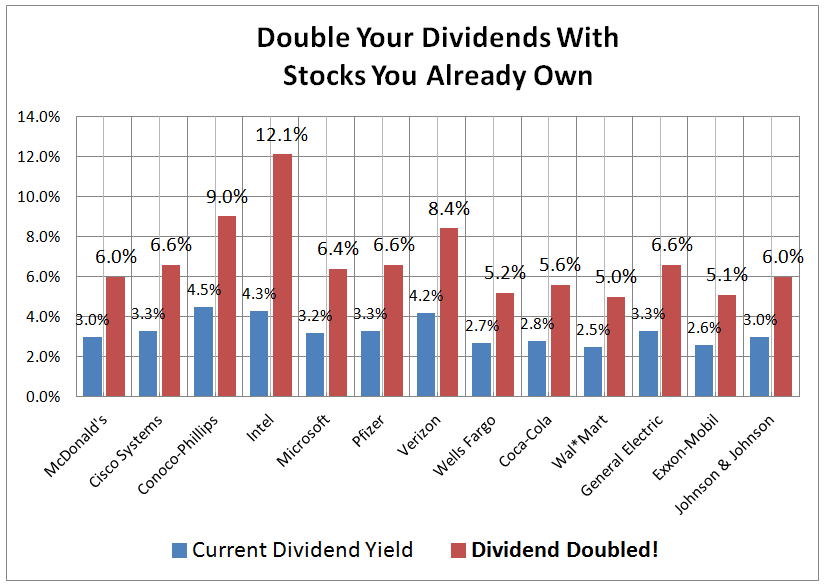 Even after these big payouts, you can still use this strategy today. In fact, this simple strategy can literally double the investment income from stocks you already own.
Today, I want to show you just how powerful this strategy works.
One of my favorite tech giants is also an outstanding income investment. And it's a great example of how you can start earning more income immediately.
The company is the biggest microprocessor and chip company in the world: Intel (Nasdaq: INTC).
Intel is a well-respected, shareholder-friendly company that dominates its industry. The company has reliable cash flows and pays consistently rising dividends. That makes it one of the steadiest performers.
And that's exactly the type of stock I like to own. That's because the world's safest and most reliable blue-chip stocks are also the best investments for a covered call strategy.
I can't emphasize this point enough: when it comes to selling covered calls, I only use stocks that are well-respected, shareholder-friendly and with a history of paying consistently rising dividends.
Why should you consider this strategy? The reason is simple: you'll earn 2x – 3x the income.
Right now, Intel pays a healthy 4% dividend. Using this simple covered call strategy, you can collect an extra 2% in income every quarter. All you have to do is own the stock, and execute a simple transaction once every three months.
Add up that additional income, and you could earn a "bonus dividend" of 8% a year. Plus of course you'll keep getting the 4% regular dividend. Combined, you could be earning a total yield of more than 12% – essentially tripling your dividend payout.
Let me show you exactly how this works.
I'll assume that you own 100 shares of Intel, which is currently trading for $22.50. You can sell a call option that gives the buyer the right to purchase your shares for $24 at any time over the next 93 days. For this privilege, you collect $0.44 per share, or $44, for selling that right. This $0.44 payment represents an instant 2.0% yield on your investment.
If Intel rallies above $24, you would be obligated to sell (for a 7% gain) your shares for $24, but you keep the $0.44 you got for selling the call. The $44 in income that you brought in at the onset is yours to keep. You never have to give it back.
Now if Intel isn't trading above $24 by the time the option expires in November, you can do a similar trade all over again.
And just think …you can do this 2.0% transaction four times in one year for an extra 8.0% yield. Plus you'll continue collecting Intel's safe 4.2% regular dividend. That's triple the dividend for using this simple and reliable strategy.
On a $10,000 stake, that would generate more than $1,213 each year. (My model portfolio has actually generated over half that in just four months using this strategy.)
That's well above the yield for a typical blue-chip dividend stock. More importantly, it's the type of healthy income stream that you deserve.
Of course, this strategy occasionally takes a few minutes of "work." But as many investors have discovered, it's simple to learn and easy to use once you get the hang of it.
Many investors who take the time to learn about this opportunity love the results. After all, earning three times the yield is worth a little "work."
If you're interested in learning more, please join me for a FREE investing seminar next week. Ian and I will be hosting a live teleconference titled, "60-Second Dividends: Instant Income from Blue-Chip Stocks" on Thursday, August 22nd at 2 PM. Just click here to reserve your seat today.