IMAX (NASDAQ: IMAX) could have a 25% rise ahead.
Summer is an important time of year for filmmakers. In fact, most producers bring in 40% of total sales between May and Labor Day weekend.
IMAX operates specialized movie theaters, sells projection systems and rents two-dimensional and 3-D film. It operates 731 theaters in 53 countries. And the stock has been up-trending all year in anticipation of strong summer box office numbers.
The all-important summer season started with a bang this week as Iron Man 3 raked in $175 million in ticket sales. The movie built on the box office success from last year's comic book-based film The Avengers.
Mega-films are a huge investment for studios such as Time Warner (NYSE: TWX). They can cost around $150 million to produce and another $100 million to advertise. Theater operators have much lower annual costs, making them a better investment as far as movie-related stocks go.
ChartWatch analyzed IMAX stock in March as the shares approached the $26 resistance zone (blue line). Though IMAX stock hasn't made it to $32 as quickly as I expected, the shares are in a great position to rise to as high as $36 following the recent breakout above $26 resistance.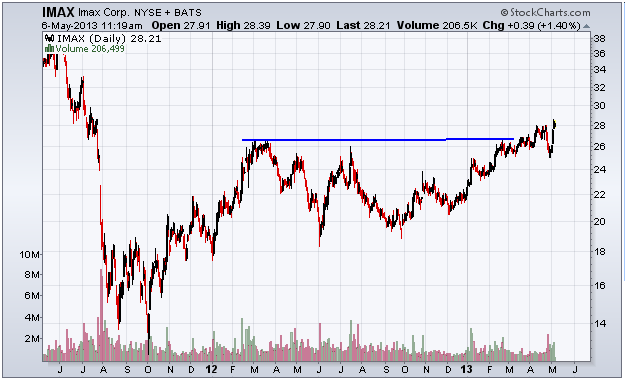 This chart shows the price of IMAX shares along with an important support line to monitor.
IMAX stock won't come cheap. The shares have a P/E ratio of 30 and a forward P/E ratio of 22. However, the company surpassed analysts' EPS expectations by 44% in the December quarter. So the current P/E ratios (which are based on the average analyst estimate) might be too high.
IMAX stock should have no problem besting EPS estimates again this quarter given the hot start to summer movie season. And now that the shares have surpassed the $26 resistance area, they should encounter little selling pressure until $32, followed by $36 – with $36 being a much stronger resistance zone. Only another decline below $26 invalidates the recent breakout and potential ascent up to $36.
Equities mentioned in this article: TWX, IMAX
Positions held in companies mentioned above: IMAX