The U.S. economy grew 1.7% in the second quarter. That's a vast improvement over the previous two quarters, when GDP growth was a combined 1.2%. But it's still quite low on a historical basis.
Since 2010, just after the smoke from the recession had cleared, America's average quarter-over-quarter GDP growth has been better than 2.1%. Just three quarters ago, the U.S. economy grew by 2.8%; GDP growth was as high as 4.9% in the fourth quarter of 2011.
The below chart puts the past quarter in perspective: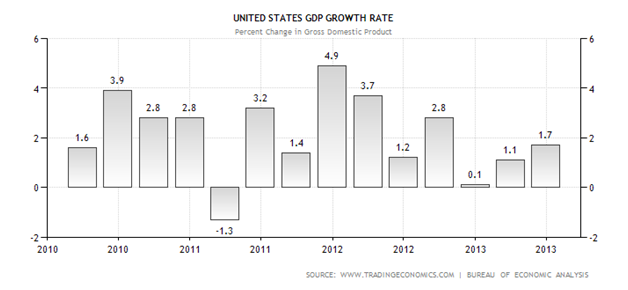 Prior to the recession, U.S. GDP growth was routinely above 2%, and occasionally higher than 4%. By comparison, 1.7% growth is a bit underwhelming.
What made today's growth rate look much better than it actually is were the low expectations for the quarter. Economists were estimating a mere 0.9% GDP growth. That the rate was nearly double those estimates helped pushed stocks up half a percent in afternoon trading.
Gross domestic product is a measure of the goods and services a nation's economy produces. While the U.S. economy is expanding, growth remains sluggish. The Federal Reserve said today that it expects things to pick up in the second half of the year. In light of the last three underwhelming quarters, however, the Fed downgraded U.S. economic growth to "modest".
So for now, not much will change: the Fed will continue to buy back $85 billion a month in bonds, and long-term interest rates will remain near zero.
Considering stocks are close to all-time highs, perhaps the status quo of modest GDP growth isn't a bad thing for investors.