Greek Prime Minister George Papandreou has agreed to step down. His widely criticized bid to put the Greek bailout to a referendum was his final undoing. But was his proposal so ridiculous?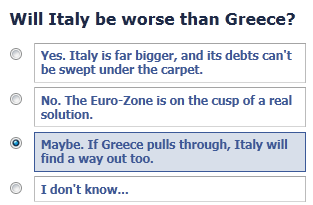 While the idea of letting the Greek people vote on bailout terms was quite a surprise, it's kind of tough to say they should have no say in the matter. Of course, killing the bailout would be disastrous, and pretty much guarantee that Greece leaves the EU. Still, I would have been interested to see how the vote turned out. We are talking about democracy. Voting is kind of important…
Now, investors are turning their attention to Italy. It sounds like Italian Prime Minister Silvio Berlusconi is also about to step down. I assume this will be perceived as a good thing, as Italy struggles to deal with the competing forces of austerity versus growth.
Goldman Sachs (NYSE:GS) is out with a negative note on the EU, saying they think the EU will eventually dissolve. Goldman is also bullish on China stocks.
"We are recommending a long position in Chinese equities. The market may be poised to continue to shift from the pricing in of hard-landing scenarios to the pricing in of some policy-driven relief and re-acceleration."
That's a risky position to take. Chinese stocks have been among the market's worst performers for at least two years. There have been multiple cases of stock fraud involving Chinese stocks listed in the U.S. Hedge fund manager John Paulson lost $500 million on Sino-Forest, for instance.
There are also fears that China's economy is due for a crash. I have my doubts about the hard-landing scenario for China. The economy is centrally managed and China has massive foreign cash reserves. Seems to me they can keep the balls in the air for a long time. Of course, that doesn't mean Chinese stocks are a buy.
But when Goldman speaks, we should always pay attention. So keep an eye on Chinese stocks. And oil, too. Goldman is bullish on oil.
Warren Buffett reportedly invested $24 billion in the third quarter. That's significant. We know he has taken positions in MasterCard (NYSE:MA), Dollar General (NYSE:DG) and Bank of America (NYSE:BAC).
But in the bigger picture, Buffett tends to buy at opportune moments. We'll find out in another month or so what else he's been targeting. In the meantime, investors should take some solace that Buffett sees value in the market.
Another positive note: capex spending from non-financial companies is back to 2008 levels. Capex, or capital expenditures, is corporate investment in equipment and software. Bloomberg reports that it was up 17 percent in the third quarter.
Of course, a lot of capex spending was postponed while the economy was weak. Maybe now that capex spending is picking up, it's a sign that companies are getting more bullish. I will add that the increased productivity we've seen is also a bullish indicator that can lead to better employment numbers.
*****Write me anytime: [email protected]
Until tomorrow,
Ian Wyatt
Editor
Daily Profit