Yesterday, I presented you with some stats to show
how good first quarter earnings reports are. Today, I'm giving you some
more, but this time in a handy and colorful chart…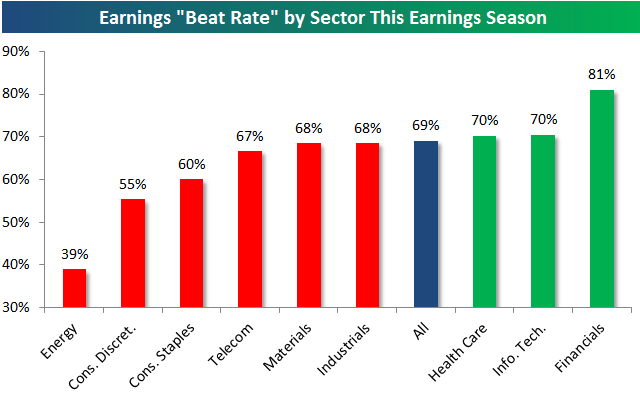 This chart is from Bespoke Investment Group. It
shows which sectors are beating earnings forecasts. Tech earnings have
been great, no surprise there. But the financials, now there's a
surprise…
It's a surprise because net revenue at the six
biggest U.S. banks — Bank of America (NYSE: BAC), JPMorgan (NYSE:JPM),
Citigroup Inc. (NYSE:C), Wells Fargo (NYSE:WFC), Goldman Sachs (NYSE:GS)
– is down 13% year over year, according to Bloomberg.
And if you look at "pretax, pre-provision
profits", which excludes taxes, loan loss reserves and one-time items,
profits fell 40% year over year.
That's clearly not a good trend for the banks. So
how did banks post such good "headline" profits? Loan loss reserves, as
we have discussed. Banks have been aggressively moving loan loss reserves
back to the asset side of the balance sheet. And that's accounted for the
lion's share of 1Q earnings. It also leaves the banks less protected if
the economy tanks again…
*****One might wonder if the banks will ever
return to the profitability they enjoyed before the financial crisis. My
answer is: hopefully not. Clearly, those earnings were not sustainable.
They were "bubble" earnings derived from over-leveraging, excessive
risk-taking and the housing bubble.
What we are seeing is banks returning to a more
normal level of profitability.
I should add the banks don't look particularly
expensive at current levels. It's just that the upside is likely
limited.
*****Tech earnings, on the other hand, are for
real. Blowout quarters from Intel (Nasdaq:INTC) and IBM (NYSE:IBM) was
followed up by Apple (Nasdaq:AAPL) last Wednesday.
I've written about the virtuous tech cycle that's
been a very important driver for stock prices for the last year. Powered
by huge demand for smart-phones and tablet PCs, semiconductor stocks,
wireless network stocks, and data stocks have been star
performers.
I've recently added a couple companies that are
smack in the middle of the smart-phone/tablet boom to the
Top Stock
Insights portfolio. One is an $11 chip stock
that supplies both the iPhone and iPad. The other is a $6 wireless
network equipment stock that's testing new wireless antenna technology
with Sprint.
Each stock has significant upside. If you are so
inclined, you can get the details HERE.