With the S&P 500 up 20% over the past six months most investors are being appropriately cautious right now. But as I wrote last week this doesn't mean there are no good values to be found in the market – it just means we need to look harder to find them.
Since I'm not an index investor, and not all stocks move in the same direction at the same time, I believe we can still find pockets of value in an otherwise stretched market – if not to buy today then at the next 'too good to pass on' pull-back.
Last week I suggested that investors look to construction stocks and I discussed a number of ways to play that trend. But you have to be a believer in an improving housing climate to want to invest any money in the space. So let's look at three charts that support my view that housing is worth a good hard look right now.
In recent months you've likely seen improving numbers for unemployment and housing starts. You may also have noticed that many home building stocks have surged. The clearest measure of why this is happening is the National Association of Home Builders' Housing Market Index.
This index measures three things as reported by home builders: current single-family home sales volume; projected single-family home sales volume for the next six months; and current buyer foot traffic.
Generally speaking a reading above 50 is bullish for home builders while a reading below 50 is bearish. Note how low this index was over the past couple of years and the dramatic increase in recent months. We're not in bullish territory yet, but we're certainly improving.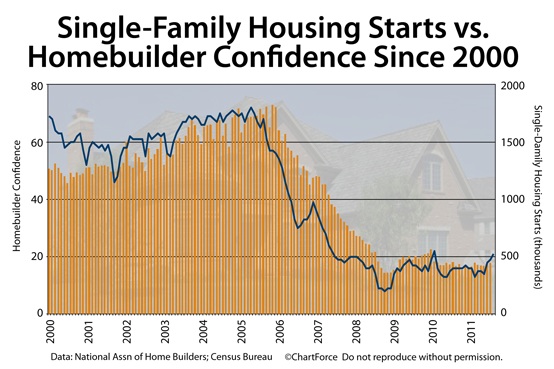 Moreover, record low interest rates coupled with a massive drop in home values has made housing much more affordable than at any point since before 1970, according to the National Association of Realtors.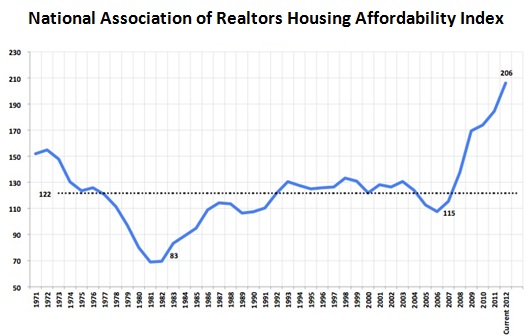 Of course this backward-looking data – compiled by those with a clear incentive to get Americans to build or buy homes – is no guarantee that housing will continue to improve and that housing-related stocks will surge higher. But it does support ample anecdotal evidence that the worst of the housing crisis is behind us.
Of course, the construction related stocks that I like will only move higher if there are workers in the field to install the products. And that means unemployment needs to come down. We're still at exceptionally high levels of unemployment – but we're seeing some improvement. The chart below is straight off the Bureau of Labor Statistics' website this morning, and shows unemployment decreasing from a high of 10% in October of 2009 to a low of 8.3% as of the end of February. This isn't great, but its better.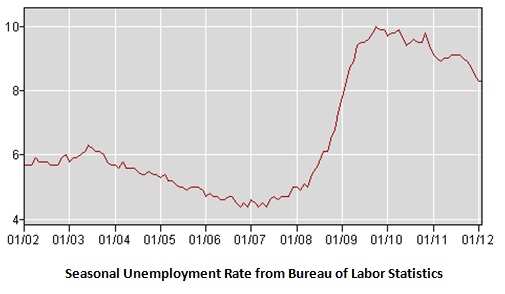 Those housing and construction-related companies that have been able to grow over the past few years, despite a very weak economy, are only going to do better if the overall housing climate improves. The three charts above suggest that's the direction we're headed.
I'm not saying any of the three paint a glorious picture of a great bullish trend – because they clearly don't – but we don't need 'great' to generate gains in construction-related stocks.
We just need less bad, and it looks like that's the trend.