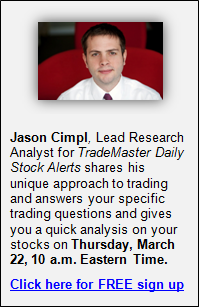 Last week, the Fed released its latest stress test results for big banks. The Fed has done stress tests in the past, but this round was more extreme than any done before. In the stress test, the Fed stacked 19 banks against extreme economic parameters including a 13% unemployment rate and another 21% decline from housing.
The stress test results were not entirely encouraging. Of the 19 banks that were tested, four failed: Citigroup (NYSE: C), Sun Trust (NYSE: STI), Metlife (NYSE: MET) and Ally Bank. Still, 15 banks passed the test of extreme economic conditions.
The results of the test have me thinking about something I covered before – did banks bottom?
I think many bank stocks did bottom. This video will show you two of my favorite big banks to trade and one that you should short on any strength. One of these three banks was also the subject of controversy last week when a former high level employee left the bank and later blasted it.
##VIDEO##
Jason Cimpl
Editor, TradeMaster Daily Stock Alerts
Washington, DC
Editor's Note: Jason's trading service, TradeMaster Daily Stock Alerts, just had another banner year. But recent optimism has him leaning bearish. Learn more by clicking here.