U.S. retail sales declined another 0.2% in May, the second consecutive month that sales have dropped by that amount.
U.S. retail sales also fell 0.2% in April – a number that was revised up from 0.1% by the Commerce Department today.
The bad news was enough to push markets down nearly a full percentage point after being relatively flat for most of the day. The Nasdaq had the steepest drop, falling 0.86% The S&P 500 and Dow Jones Industrial Average dropped 0.7% and 0.6%, respectively.
There was good news, however, amid today's weak U.S. retail sales report. While sales were down month-to-month, they were 5.3% than last May. Also, the 0.2% drop-off in sales was less than the 0.3% many economists were expecting.
Still, this is the first time in nearly two years that U.S. retail sales have declined for two straight months. Take a look at this two-year chart, courtesy of ycharts.com: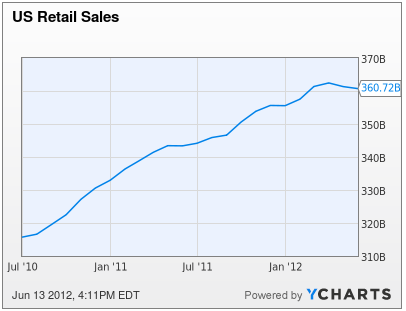 Since July 2010, for the most part sales have steadily increased. The number has only dipped month-to-month four times as retail sales figures have ballooned from $315 billion to better than $360 billion – a promising 14% increase in less than two years.
But two of those four months were the last two months – a disturbing trend for the U.S. economy.