If the past year has taught us anything, it's that investors aren't exactly shaking in their boots over things like fiscal cliffs, debt ceiling deadlines or the European debt crisis.
That's reflected in the 19% gains the S&P 500 has achieved since the start of 2012. It's also reflected in the VIX.
The so-called investor fear index is hovering right around five-year lows these days. The VIX has fallen 70% since reaching a fever pitch in September 2011. At just under 13.00, the VIX is as low as it's been since early 2007 – before even the first hints of a recession.
The index has declined roughly 30% in the month since the fiscal cliff was averted, showing that no one was really too worried about the lingering debt ceiling deadline. No wonder market response was minimal yesterday when the House voted to push the deadline back another three months. Investors weren't too concerned to begin with.
Because the VIX projects market volatility 30 days out, the declining level of late may mean that this recent upturn in stocks isn't over – even though the S&P is already threatening to top 1,500 for the first time since mid-2007.
Just look at this comparison between the performance of the S&P and the VIX over the last month: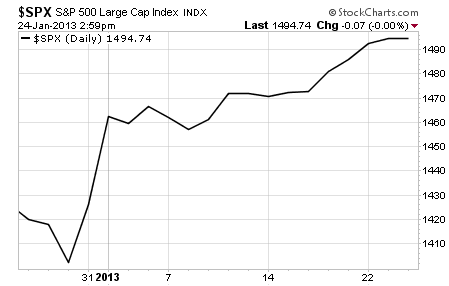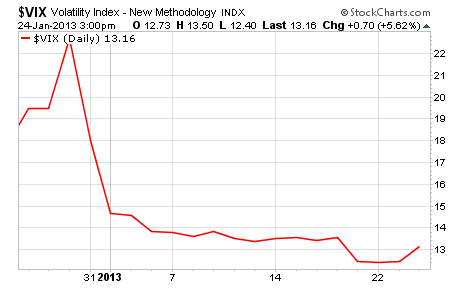 If the VIX continues to remain as low as it has since the beginning of the year, that should bode well for stocks in the weeks to come.