Apple (Nasdaq: AAPL) is approaching a big anniversary. But it's not the anniversary of the iPhone, iPad, or iTunes. Instead, Friday marks the one-year anniversary of the stock's brief visit to $700.
Getting to $700 itself was a 6-sigma event. That means it was a statistical impossibility that Apple would break $700 a share. That might seem like a pointless "stat" – but it's in fact vitally important to understand from a practical investment perspective.
That's because most investors posture their portfolios to profit from the repetition of highly unlikely events. Many investors might look at Apple at $450 today and think "hey, if it just gets back to $700, I'll make an easy bundle."
But you should know from a statistical standpoint, your speculation is based on emotion or hope – instead of the actual numbers.
I hammer this point home to my paid subscribers. I think every investor must realize one thing: you can't know whether an investment will go up, down or sideways over any given period of time.
Here's a stat I repeat as often as I can: there's a 50% chance that Apple will be higher a month from now. And there's a 50% chance that Apple will be lower.
If those likelihoods sound bleak or useless, you should know that you can profit from this type of statistic. Each month, I reveal a way to collect extra income from Apple using this very same stat.
In fact, I've been doing this for my Options Advantage subscribers for over a year. And so far, the Apple portfolio is up 15.6% while the stock is down 15.9%.
A Simple Way to Make Money From Apple
How am I doing it? I've found a simple way to make money from Apple – regardless of whether you own shares or not, whether you like the company or hate it.
In my monthly webinars, I've revealed these Apple trades absolutely free. And so far, 11 out of these 12 trades were profitable. That's a win ratio over 91%. I've hosted these free webinars to share the same strategy I use in a real-money portfolio.
I won't get into too much detail here, but I basically have found a simple way to ensure my investments are profitable at least 80% of the time. And I would like to share this secret with you.
So let's take a closer look at Apple.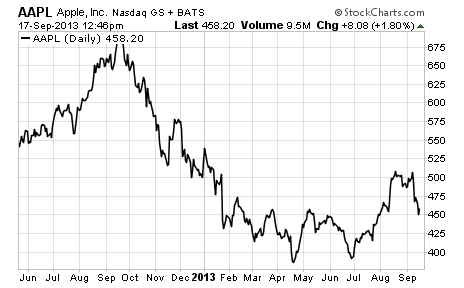 It's difficult to predict where Apple shares are headed next.  But through the use of a relatively simple options strategy, I can increase my odds to 80-20, and I can do so without risking as much capital.
Exercising a little bit of caution and judgment, I've made money over 90% of the time on Apple alone.
Even if you missed out on these past wins, I have good news for you: I'm about to release my next trade. And I'm prepared to share all the details with you in my upcoming free webinar (just click here to reserve your spot).
So why aren't more and more investors using this strategy? I'll never understand…but frankly, it's to my benefit that few investors participate. That gives me an even bigger edge…and I encourage you to begin banking the profits too.
My strategy simply makes mathematical sense. I get to choose my own odds based on the risk and return that fits best in my portfolio. This is what I do in the Options Advantage service and it is what I have been doing throughout my entire career as an options trader.
Knowing that each and every stock investment only has a 50% chance of success, it just doesn't make sense that people keep perpetuating the guessing game that goes on daily in the investment world. My advice is to stop guessing and start using probabilities to make your decisions.
If you're interested, I invite you to join me (for free) at my next webinar event. During this live event, I'll be giving you all the details of high-probability trade for taking advantage of Apple's recent price action.
It all starts this Thursday at 12pm ET. Click here to reserve your seat at this exclusive, live webinar. You won't want to miss out on all the details in tomorrow's investing webinar event.