Never point a gun at something unless you intend to destroy it.
That's one of the four rules of gun safety. Its simplicity helps you ensure that even in the event of an accidental discharge (which can happen to anyone) that you will likely hit something that you intended to destroy anyway.
I'm sure the responsible gun owners reading this letter today can rattle off the other three rules – and for good measure, I've included all four at the close of this letter.
But today, I'd like to tell you something you might not know about what I consider to not only be the best gun manufacturer in the world – but also one of the best stocks you can buy today.
First – the gun manufacturer I'm talking about is Sturm and Ruger (NYSE: RGR).
I buy their guns because I've found them to be of high quality, reliability and consistency.
They offer a suite of almost every conceivable type of firearm – everything from .17 caliber plinkers, to hand-breaking .44 magnum revolvers, to shotguns, to long-distance rifles, to high-capacity "civilian" assault rifles and everything in between.
I prefer simplicity, so my favorite gun from their catalog is the .357 magnum single action revolver: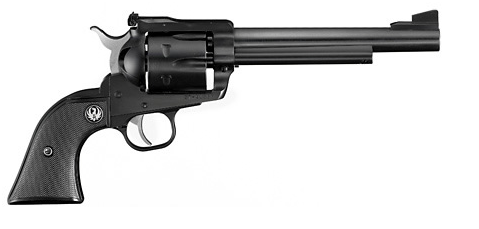 It shoots both .38 special loads as well as the highest-powered .357 cartridges, and can handle just about any powder load a hand-loaded cartridge can manage.
So if you're in the market for a gun, I'd highly recommend browsing Ruger's products – I don't think you'll be disappointed.
But if you're looking to buy a great company with some solid trends in its favor, I think you should pick up some shares of RGR.
If you think Barack Obama is likely to win re-election tomorrow, then you should definitely buy some shares today, especially.
Had you bought shares ahead of the last presidential election, you'd be sitting on a 900%+ gain.
I'm not saying that there's another 9-bagger in the cards for Ruger, but I think we can reasonably expect Ruger to continue to sell a ton of guns – especially if Obama wins. I've heard more than one gun retailer claim that Barack Obama was the best thing to happen to gun sales ever.
The good news is, even though Ruger has grown 9-fold over the past four years, it's still a micro-cap stock. Its less than $1 billion market cap means that there's plenty of room to grow. Even if does grow 9-fold again, it will still only be a mid cap.
And even better, it's cheap. You can buy shares of Ruger today for less than 13 times trailing earnings. AND it pays a 3.4% annual dividend yield.
To recap – one of the best American growth stocks of the past decade is cheap on an earnings basis, has a good dividend yield, has a simple and great product, AND has a compelling trend poised to send shares higher.
And I almost forgot – here's the full list of gun rules. Send it along to friends/family who own firearms. I'm sure they know them, but a reminder can't hurt.
The 4 Rules of Gun Safety
The 1st Rule – The Gun Is Always Loaded!
The 2nd Rule – Never Point The Gun At Something You Are Not Prepared To Destroy!
The 3rd Rule – Always Be Sure Of Your Target And What Is Behind It!
The 4th Rule – Keep Your Finger Off The Trigger Until Your Sights Are On The Target!
Good investing (and shooting!).