Don't wait for Wall Street to give you permission to achieve your investment goals.
If you're like most investors, you're "waiting" for many things. You're waiting for the stocks you own to go up 200%. That's when you're sure you'll sell. You're waiting for the stocks you want to own to drop 50% – then you can finally buy them.
Or maybe you're waiting for a great company like Apple (NASDAQ: AAPL) to announce a huge special dividend.
But investors shouldn't wait for anything anything.
Instead, you should strictly define your investment goals, and then create a strategy that will give you the best chance to succeed.
The most basic requirement for successful investing is to have a well-defined strategy. This means a specific approach that gives you an edge.
Without such a strategy or edge, you will eventually lose. The odds of success are 50/50 at best. And if you don't know what your method is, you don't have one.
For the past year or so, I've hosted a monthly webinar – for free – to show people the strategy I use in a real-money portfolio.
I won't get into too much detail, but I basically have found a simple way to ensure my investments are profitable 80%+ of the time.
For example, take – Apple (NASDAQ: AAPL).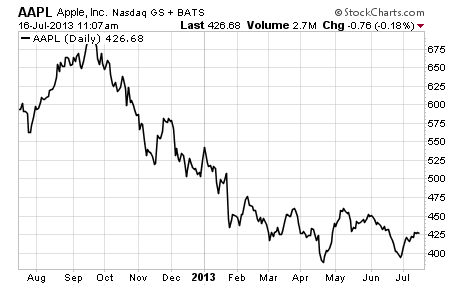 I can buy or sell the stock short right now, but my probability of success would be only 50%. The stock is going to go either up or down. Including my transaction costs, my probability of success is actually lower than 50%. Plus, at more than $400 per share, I'd have to fork over a lot of capital to make the trade.
However, through the use of a relatively simple options strategy, I can increase my odds to 80-20, and I can do so without risking as much capital.
How is it possible to have an 80% probability of success?
Basically, I am selling options to speculators – traders, most likely newbies, who are speculating that Apple will continue to rise or fall.
You may have heard it before, but it's worth repeating: most option contracts expire worthless. This means that most of the time someone buys either a put or a call, they lose money. I'm simply taking up the role of the guy selling them their lottery ticket. And 80% of the time, I make money.
I've done so successfully on 9 out of the last 10 trades I've done on Apple – and I'm about to release my next trade.
Why aren't more and more investors using this strategy? I'll never understand…but frankly, it doesn't even matter.
My strategy simply makes mathematical sense. I get to choose my own odds based on the risk/return that fits best in my portfolio.
This is what I do in the Options Advantage service and it is what I have been doing throughout my entire career as an options trader.
Knowing that each and every stock choice has only 50/50 odds of success, it just doesn't make sense that people keep perpetuating the guessing game that goes on daily in the investment world. Stop guessing and start using probabilities to make your decisions.
If you're interested, I invite you to join me (for free) at my next webinar event. During this live event, I'll be give you all the details of high-probability trade for taking advantage of Apple's earnings call this Monday – so you can put my strategy to use right away!
It all starts this Thursday at 1 pm ET. Click here to get signed up for tomorrow's live, free webinar.
Remember, feel free to email me at [email protected] with any questions that you might have regarding options.
Kindest,
Andy Crowder
Editor and Chief Options Strategist
Options Advantage and The Strike Price