When most Americans think of Mexico, they picture white-sand beaches and sombreros – a vacation paradise – not a place to invest.
Which is a shame, because these folks are missing out on a tremendous opportunity.
You see, Mexico is growing at nearly double the pace of our economy. You won't hear it on CNBC, but they've been averaging 3.4% to 4% per year since 2009. (We'll be lucky to grow GDP by 2% this year.)
And Mexico's expected to continue this pace of growth through 2014 – meaning those who get in now have months of gains ahead of them.
And I've found the best way to cash in.
You see, all this growth requires vast amounts of energy – energy Mexico doesn't have.
That's why Mexico has increasingly turned to the United States for its energy needs. Specifically natural gas.
Last year, was a banner year for U.S. natural gas exports to Mexico. Exports grew 24% to 1.69 billion cubic feet per day (bcf/d), a record volume.
As the chart below reveals, Mexico's demand for U.S. natural gas has ramped up significantly over the past 10 years. Over the past two years alone, demand has been particularly robust.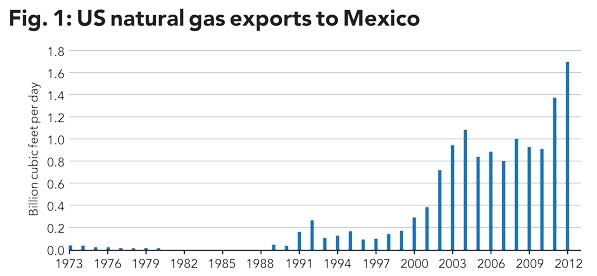 Source: Oil & Gas Financial Journal
A confluence of factors points to continued high demand for natural gas in Mexico. And since Mexico doesn't produce much natural gas, the U.S. is in a prime position to fill that need.
For one, there's the economic growth that is driving electricity demand higher. To meet electricity demand, Mexico plans to add roughly 28 gigawatts of new electric generating capacity between 2012 and 2027, mostly in northern Mexico.
At the same time, Mexico is pushing toward green energy. The country is actively switching to cleaner-burning natural-gas-fueled electric plants from oil-fueled plants.
CFE estimates that plant expansions and plant conversions could raise natural gas needs for power generation by 5.1 bcf/d over the next 15 years.
Mexico's domestic supply also favors U.S. exporters.
Petroleos Mexicanos, the Mexican state-owned petroleum company, has gotten it wrong on natural gas. This isn't unusual for a state-run monopoly. It's CAPEX policy appears to be driven by spot prices only.
When natural gas prices were strong between 2003 and 2008, Pemex stepped up natural-gas investment, and production grew to 7.5 bcf/d from 4.5 bcf/d. But when natural gas prices tanked, in 2008, Pemex cut back its gas drilling activities. Since 2008, Pemex's natural gas production has fallen steadily, by roughly 15% from 2008 levels.
Lack of investment in both production and exploration has seriously drained Mexico's natural-gas reserves. In the late 1990s, Mexico had more than 60 trillion cubic feet (tcf) of proven reserves. Today, these reserves have declined by more than 70%.
Mexico's growing demand coupled with dwindling domestic supply is forming the perfect opportunity for U.S. natural gas pipeline companies.
This is particularly true for those companies with pipeline networks in close proximity to the Mexican border. Namely, Texas-based exporters of natural gas.
Between 2009 and 2012, pipeline shipments from Texas to Mexico rose 34% on average per year to 1.36 bcf/d, which was 75% of the U.S. natural gas exports to Mexico in 2012. Most of the U.S. exports to Mexico departed from South Texas, with supplies mainly originating from the Eagle Ford shale play.
The dynamics of the Mexico natural gas market fit perfectly into the wheelhouse of a High Yield Wealth pipeline recommendation. This pipeline company has an extensive pipeline footprint in South Texas and the Eagle Ford shale.
I believe this company's growth opportunities – both foreign and domestic – point to significant price-appreciation over the next 12 months. What's more, it rewards patience with a 6.9% yield, one of the higher yields in the pipeline sector.
Last week, I wrote about the burgeoning U.S. energy boom. I believe this boom will lead to further reversal of pipeline flows, such as those between Mexico and the United States, which used to overwhelmingly favor Mexico.
The good news for investors is that there is still time to make big profits, if you know where to invest. I believe the Texas-based pipeline company I'm recommending is just one of many great opportunities for profiting from the growing need for natural gas in Mexico.