Earlier today, Ian Wyatt wrote about seemingly good earnings news being unable to give stocks a lift during the current earnings season. He specifically called out financials as one sector in which earnings beats had already been baked into stock prices.
But could the recent selling in the sector have run its course, at least for the short term?
Let's take a look at a daily chart of the Financial Select Sector SPDR (ETF) (NYSEARCA: XLF), which includes all the major big banks among its top 10 holdings. Note how the ETF has spent the better part of the past two months locked within a tight trading range between 15 and 16.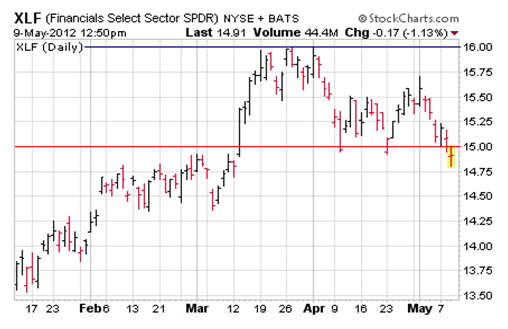 One reason for this tight range may be related to options activity. In the May series (set to expire next Friday), 216,000 calls sit at the 16 strike, while 185,000 puts call the 15 strike home. Heavy call open interest strikes often define points of resistance, while heavy put strikes can be areas of support.
Once these options expire next week, the upside may open up a bit, as the peak call open interest strike in the June series moves up to 17 (peak puts remain at the 15 strike).
So with earnings news mostly out of the way, XLF may take its cues from the technicals through next week. As such, look for the range to hold, and for XLF to perhaps enjoy a bounce up to 16 should the market show any signs of firming.