Apple investors are scared. That's because many experts believe the iPhone 5 was a dud and the stock will head lower after management provides earnings.
I don't find this likely. In fact, the pathetic stock performance following the latest product release was a fluke.
Apple typically does well following an iPhone release. As a matter of fact, the shares have increased following the release of every other iPhone except the iPhone 5. In fact, Apple more than doubled in value after the original iPhone and iPhone 4 were introduced.
Aside from a difficult period (globally) during 2008, AAPL has typically rallied for months following iPhone releases. Also, the shares have yet to come down to anywhere near where they traded at when the iPhone 3GS, iPhone 4 and iPhone 4S hit store shelves.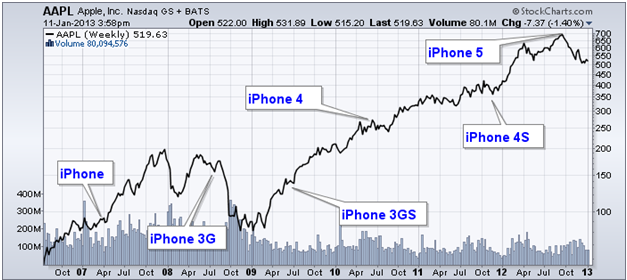 However, instead of rising after the iPhone 5 release, the shares sank. In fact, Apple fell 30% at one point, eliminating $200 billion worth of shareholder value in the process.
The iPhone 5 may be a technological improvement over past designs, but that hasn't helped the stock. This may change on January 23 when Apple reports its earnings after the market closes.
Many analysts have waited five months to hear the announcement because this will be the first full quarter of iPhone 5 sales data. Though the iPhone 5 launched September 21, Apple's fourth quarter ended on September 30.
Apple can put investor's fears to rest with big earnings this quarter. And I think they'll do it.
First, analyst expectations for iPhone 5 revenue are far too pessimistic. They are too concerned that supply disruptions in October impaired or eliminated unit sales.
However, those sales didn't go away; they were merely postponed. Even though 2013 could be a tough year on iPhone sales, plenty of people kept Apple products on their shopping lists in November and December. And that's just what Apple is counting on.
The U.S. consumer continued to spend gobs of money this holiday season. Industry tracker comScore reported that U.S. shoppers dropped $42.3 billion during the year-end holiday season. That's a 14% increase from last year. Think any of those billions went toward an iPhone 5?
I'm betting that some of that hard-earned money did. Apple could blow expectations away and report 52 million unit sales. At an average selling price of $630 per device, that's $32.7 billion in sales.
Second, analysts are also downplaying the pricing ability of Apple. However, given such healthy consumer spending during the holiday season, shoppers likely had no problem paying a premium for Apple's top-of-the-line products.
Traditionally, Apple boasts a gross margin greater than 40%. Yet, many analysts believe it will be closer to 39% this quarter. Because Apple generates so much revenue, minor changes in the margin can result in drastically different profit estimates. A 1% difference could be worth as much as $550 million.
Apple has had its share of difficulties during the past four months. However, those challenges are reflected in the current analyst expectations. In fact, the analyst estimates are likely to be too dreary. I'm expecting Apple to beat on revenues, margin and EPS this quarter.
So I think analysts are low-balling revenue and high-balling cost of sales. But I'm doing the reverse. I expect more than $45 billion in sales from the iPhone and iPad segments and total sales could easily hit $57 billion. Since Apple has fairly consistent selling, research and operating expenses, it's easy to extrapolate net income from here.
With $57 billion in sales and a 40.5% margin, Apple would report $23.1 billion gross profit. Their operating expenses are likely to be just under $4 billion while taxes should be close to $5 billion. Net income would be $14.3 billion under these circumstances. This would result in an EPS of $15.05, which is 13% above the average estimate. This positive data should boost Apple's outlook and valuation, sending the shares higher.
Apple is one of our favorite stocks. In fact, we recently sent readers of Top Stock Insights a detailed report about the bullish case for Apple ahead of its earnings report due out January 23. More information about this special report and our investment service is available by clicking here.