Back in May, Facebook (NASDAQ: FB) was the darling of Wall Street. However, I determined that it was not the best stock to own (as far as social network companies go). I mentioned, "Facebook might be more tempting for traders, but I believe LNKD has more upside potential over the next three months."
LinkedIn (NASDAQ: LNKD) is a great company to consider and its stock has superior value. More importantly, the shares held support at $95, as expected. Given that strong foundation, it looks like the shares made the necessary preparations to break out past $113 resistance.
A move past $113 is nothing to scoff at. Based on the chart below, such a move would result in another rise to channel resistance, which should be around $130. Over the longer term, the shares could target as high as $150 so long as this bullish channel pattern (double blue lines) continues to hold.
Much like I mentioned in May, some caution is warranted for swing traders. Those trading a move to new all-time highs must wait for $113 to be taken back first.
Over the next few sessions, I expect the shares to consolidate near the 50-day moving average (orange line), which needs to become a support area. Long-term investors can purchase LinkedIn anywhere below $97.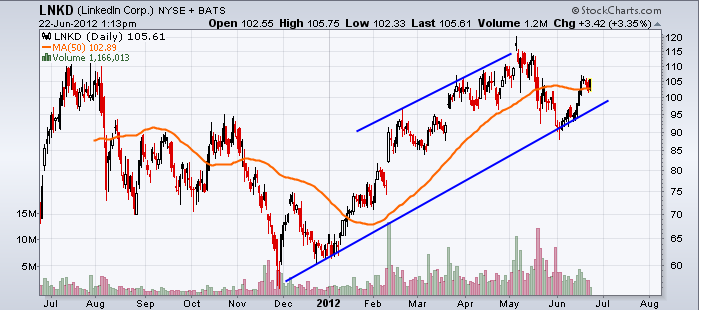 This chart shows the price of LinkedIn shares along with an important support area for you to monitor
Equities mentioned in this article: LNKD , FB.