The troubles in Spain took Greece out of the spotlight. Effectively, bearish investors have switched their attention to Spain's crisis from Greece's, but that shift is likely temporary. With a debt to GDP ratio of 170%, the Greek economy remains in dire straits.
As mentioned in May, there are ways to profit from a Greek default. One of my strategies was to sell National Bank of Greece (NYSE: NBG) shares because the stock is worthless.
One month later, NBG stock is now around $1.20, down from above $2, a near 50% drop. The trade is still active until $2 resistance (blue line) is taken back and I expect NBG shareholders to be completely wiped out.
Shorting shares (selling stock you don't own) is a risky strategy and one that many long-term investors are not familiar with. However, there are a few ways to profit from a Greek default.
Default fears transfer into other assets, such as stocks. And when shareholders are frightened, they sell their positions – often at the wrong time and often in the wrong company. And when they sell, the shares of great companies head lower.
The shares of technology giants such as Apple (NASDAQ: AAPL), IBM (NASDAQ: IBM) and Intel (NASDAQ: INTC) declined over the past month. Despite the pullback, these remain excellent companies. And because of Spanish default fear, they trade at a large discount to fair value.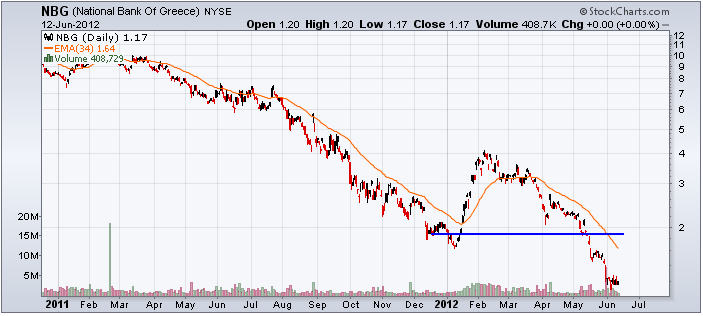 This chart shows the price of National Bank of Greece shares along with an important resistance area for you to monitor
Equities mentioned in this article: NBG, AAPL, IBM, INTC