Over the past 10 years, Greece went on a spending binge fueled by credit. Unfortunately for Greece, when the global economy slowed in 2008, the incredibly high debt load provoked a crisis not only in Greece but in much of Europe.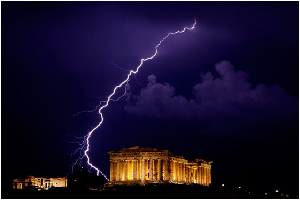 Greece was not alone in terms of poor spending habits; Ireland, Portugal and Italy are a few other European countries that encountered problems too. Nevertheless, Greece has been a focal point of investors for much of the past year.
Although Greece is part of the eurozone, the country has an independent credit score. And with a bad economy and unruly debt levels, the credit rating of Greece has constantly fallen.
Greece is in a tough spot because it must take on debt to pay current loans. But as it takes on more debt its credit rating declines and the cost of debt increases – yields on Greek 10-year debt topped 33% in December 2011 from around 5% only one year before.
The high debt costs made going to the bond market unsuitable. That meant the costs to refinance Greece fell to the eurozone and the IMF.
Both parties have provided financial assistance to Greece over the past several years, but this year neither group was willing to aid Greece without a promise of major budget cuts. Germany, a major voice of the eurozone, made it crystal clear that it would not help Greece without promises to reduce spending and increase growth from Greek officials.
German Finance Minister Wolfgang Schaeuble recently remarked, "We can help, but we are not going to pour money into a bottomless pit."
The tensions between Greece and its neighbors have worsened over the past several years and unfortunately, the commoners of Greece will be hurt the most. Citizens of Greece have already forfeited pensions and wages. In order to receive new bailout capital to meet interest payments, citizens will have additional payroll cuts and tighter spending requirements.
Greece is still in rough shape, economically. However, another bailout from the IMF or the eurozone could provide a financial cushion that gives the country enough time to start a recovery.
Greek stocks sold hard over the past year and the Athens General Index, which is the benchmark index for Greece, fell from about 1,500 in January of last year to 800 this month.

Today's video analyzes a chart of the Global X FTSE Greece 20 ETF (NYSEARCA: GREK), which seeks to match the return of the Athens General 20 Index. The ETF is relatively new, but with a bailout likely coming for Greece it might have some big upside opportunity.
##VIDEO##
Jason Cimpl
Editor, TradeMaster Daily Stock Alerts
Washington, DC
Editor's Note: Jason's trading service, TradeMaster Daily Stock Alerts, just had another banner year. But recent optimism has him leaning bearish. Learn more by clicking here.