Investors have been bracing for today's Apple (NASDAQ: AAPL) iPhone 5 announcement. Now that the new gadget's out, the stock is being met with widespread indifference.
After seesawing back and forth for much of the day leading up to the 1 p.m. eastern time announcement, Apple shares finished the day up only 1.4%. Just look at today's Apple stock chart: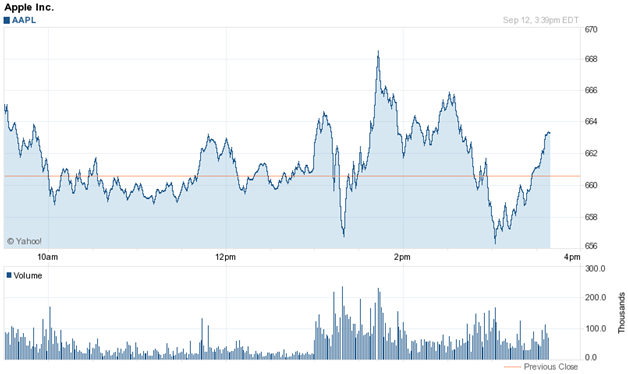 CEO Tim Cook and company wrapped up their presentation on the new iPhone 5 right around 3 p.m. That's about when the stock started to fall.
You can almost see the collective "That's it?" from investors.
So what's the problem? The iPhone 5 offers plenty of new features including a larger display screen, a digital coupon service, a better mapping device and a longer battery life.
None of those new features managed to wow investors, however. By Apple's cutting-edge standards, its latest iPhone innovations qualify as ho-hum. Nothing about the new phone is headline grabbing like the "Siri" feature was in the iPhone 4S.
The absence of a mini iPad may have also contributed to Wall Street's collective yawn after today's announcement. Rumors have been circulating that Apple will soon introduce a smaller version of its popular iPad tablet. Some thought the device would be unveiled today as part of a package deal with the new iPhone.
It was not to be. Absent a mini iPad and with no truly exciting changes to the new iPad, so far investors are treating today's announcement as business as usual for Apple.