The Bob Marley brand is still alive and well . . .
USA Today reports that Bob Marley's estate is launching cannabis beverages.
It's another sign that cannabis drinks are going mainstream.
One brand-new cannabis brewer owns patent-pending technology. And this brewer is  getting ready to go public.
Go here now for urgent details – BEFORE Wednesday.
The new Bob Marley cannabis drinks are made by New Age Beverages (NASDAQ: NBEV).
In September, the company first announced its plans for new CBD drinks. At the time, shares were trading at $2.82.
Shares surged 55% the following trading session.
Meanwhile, the stock has continued to rise in recent months. Just check out this six-month chart for NBEV shares: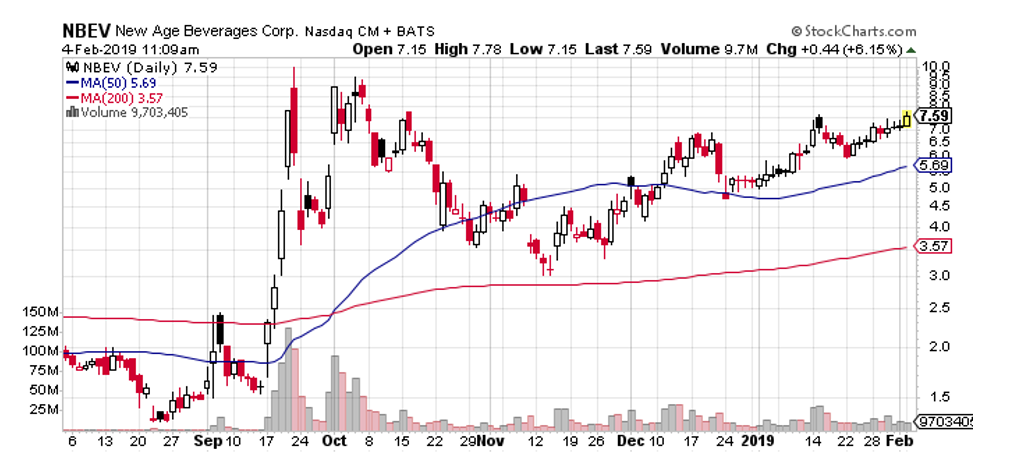 Despite overall market volatility, this stock is thriving.
Total gains are 180% since the company announced plans to get into cannabis drinks.
Click here for my No. 1 cannabis drinks stock.
Why?
Because cannabis drinks will be a HUGE new market.
In fact, the CEO of Molson Coors (NYSE: TAP) says cannabis drinks could account for 30% of the total cannabis market.
And he estimates that cannabis drinks could be a $3 billion market in Canada!
New Age Beverages aims to be a leader with new CBD drinks for the U.S. market.
Three new drinks using Bob Marley's name were revealed last month at a food show in San Francisco. And the drinks will be sold this spring in Colorado, Washington, Oregon and Michigan.
The drinks are infused with 25 milligrams of cannabidiol (CBD). That's the non-psychoactive compound that comes from cannabis.
CBD doesn't create a "high." Instead, it can be used to relieve pain and reduce anxiety.
Lots of people are interest in trying cannabis.
But most people don't want to smoke due to health concerns. As a result, cannabis drinks will open up the market to millions of new customers.
Currently, the black market for cannabis is estimated to be $50 billion in the U.S, with another $5 billion to $7 billion in Canada.
This market expansion with cannabis drinks could easily send recreational sales surging past these levels.
That's why I'm buying shares of this cannabis brewer right now.
The company is currently private – and getting ready to go public within the next 60 days. This type of Pre-IPO situation makes it possible to realize huge profits – very quickly.
Click here now for urgent details (it's FREE).
Yours in Profits,
Ian Wyatt