President Trump just met with Apple (NASDAQ: AAPL) CEO Tim Cook.
Why?
Because Trump wants American-made 5G technology. And he's asking Apple to get involved with a 5G network.
Go here to discover Apple's 5G supplier.
On Wednesday, President Trump flew to Apple's new $1 billion campus in Austin, Texas.
For News is reporting that he asked Tim Cook to develop telecommunications infrastructure for 5G wireless networks in the U.S.
The 5th generation wireless networks are being deployed in 100 cities across America. And this includes places like Cleveland, Dallas, Orlando and Las Vegas.
The new 5G networks promise to deliver 50x – 100x faster wireless speeds. These hyper speeds would allow you to download a full movie on your phone in a few seconds.
There's one big problem: China is a leading supplier of 5G infrastructure technologies.
Trump doesn't want to allow China to build America's new 5th generation wireless network for two reasons.
First, he's concerned that this could allow the Chinese government to spy on Americans. And it could make it even easier for Chinese companies to conduct corporate espionage.
Second, Trump realizes that American companies will spend $100 billion rolling out new 5G networks. Everyone knows that Trump's goal is to "Make America Great Again." And that means having each 5G network built by American companies.
After meeting with Tim Cook, Trump tweeted . . .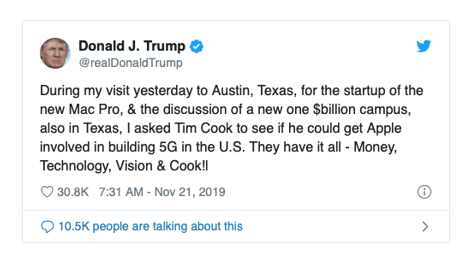 Trump and Cook have developed a close relationship in recent months. And this could be very good news for Apple shareholders (and folks who own this little-known stock).
That's why Trump is asking Apple to help secure America's new 5G networks.
Apple has never been involved in wireless infrastructure. Instead, the company has always focused on consumer devices including iPhones, iPads, the iWatch and services including iTunes.
Getting into 5G infrastructure would be a big departure from Apple's core business. However, it could also offer an explosive growth market for a company that's struggled to develop the next hot consumer electronics device.
There's also another sign of Trump's cozy relationship with Cook.
The President is considering giving Apple an exemption on tariffs that are being placed on imports from China. And this exemption would be crucial for keeping the costs down on the already expensive iPhone.
Right now, America is getting ready to roll out the new 5G networks in 2020. And Trump is making sure it's American companies that will make all the profits.
That's why I'm hosting the 5G Profit Project.
Inside you'll discover the top undiscovered technology stocks to buy now.
These little-known companies could be the biggest winners as American companies spend $100 billion on next-generation wireless networks.
Click here ASAP for instant access.
Yours in Profits,
Ian Wyatt