It's time to wake up to the fact that we are on the verge of a bear market. Don't despair. That means you may have a chance to grab some quality stocks at bargain prices, and given how insanely expensive many have been, you should be happy.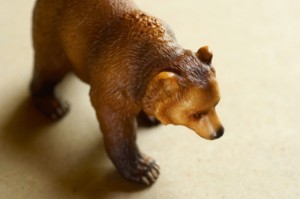 So out of all the bear market stocks you could choose, where should you focus? I personally prefer small and mid-cap stocks that have been oversold. For example, Enova International (NASDAQ: ENVA) is an online consumer and business lender that is transitioning its portfolio away from short-term loans to installment lending here and in the U.K.
Ashford Hospitality Trust (NYSE: AHT) is the best managed of the hotel REITs and has been sold down to its IPO price from 2003. That's ridiculous. It also pays a 9% yield as a result of the selloff.
Most investors prefer the large caps, so that's where I'll focus my discussion. Right at the top of my list is Starbucks (NASDAQ: SBUX). This has been a brilliant story from its origins – creating a place between work and home where people can meet, and sell an addictive product at it. Once it established a foothold, it has expanded into many profitable directions, steered by smart management that isn't afraid to take risks, but also isn't dumb enough to spend too much money chasing rainbows.
Starbucks is only a few points off its all-time high of $64. If you can get it in the $40s, then be patient and wait for it.
Middleby Corp. (NASDAQ: MIDD) has become the juggernaut in the commercial food-service, food-processing  and residential kitchen equipment arena. The company grew from just being a commercial oven provider to take over this enormous sector over the past few years.
Just about anything having to do with cooking, processing, and kitchen appliances is in the company's wheelhouse. The commercial side offers a tremendous range of equipment: we're talking about ovens, ranges, fryers,  steam-cooking equipment, warming equipment, heated cabinets, charbroliers, ventless cooking systems, ventilation, induction-cooking equipment. You name it, they do it.
So while Middleby missed earnings in its last quarter, it's valuation is coming down to reality. Earnings are pegged to grow 20% annualized over the next five years, and the stock is now at 19x FY16 estimates. So it's at fair value now, but I would look to pick it up at even lower prices, such as in the $70s.
Alphabet (NASDAQ: GOOGL) proved something important this past quarter.  It not only makes a lot of money, it can afford to lose over $3 billion annually on its venture capital projects and that barely makes a dent in overall results.  It has perfected the revenue-generating capacity of search advertising, and just keeps delivering.
Last year's numbers at Alphabet showed almost $75 billion in revenue, with $23 billion in operating profit and $6.4 billion in free cash flow. Alphabet has $70 billion in net cash, or about $119 per share.

 With Alphabet trading at $725, backing out the $120 in cash per share puts the business at $600 per share, or $500 billion in market cap. With net income of $6.03 billion, it has a P/E ratio of 83.
However, the year's net income grew 30%. I give Alphabet a premium for free cash flow, cash on hand and brand name, that would justify a P/E ratio of 40. I also permit a PEG ratio of up to 2.0 for high-growth stocks. Thus, paying 80 times earnings is not unreasonable.
Still, you can get it cheaper in a bear market. Start to nibble below $675, and add in little bits every 5% to 7% down from there.
How to Sleep Easy at Night
Is the economy keeping you up at night? Do you worry there's another crash just around the corner? If so, you can stop worrying right now. All it takes is a few minutes.