The parade of positive earnings reports marches on. The
number of companies in the S&P 500 that are beating expectations
continues to run at a better than 70% clip.
It's interesting how sentiment was so conflicted coming into
2Q earnings season. We discussed at length here in Daily
Profit how analysts had lowered estimates and investors appeared to
be expecting earnings growth to slow.
At the same time, there were virtually no pre-announcements
that earnings would miss. And investors then, like now, were having a hard
time getting bullish on the stock market.
The reason is simple enough: even though earnings prospects
looked decent, economic data started to weaken, and the "double-dip of
recession" rhetoric got particularly loud.
Even now that earnings are coming in better than expected
and the stock market has put in a very nice rally, investors still seem to be
skeptical. I came across this chart form Bespoke Investment Group, who always
produce some very interesting market statistics.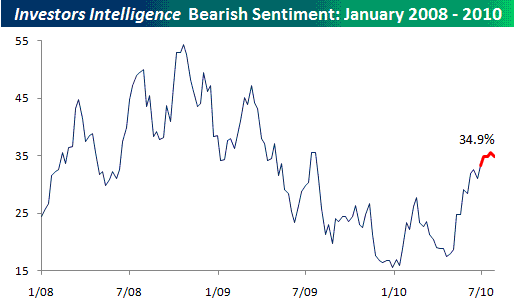 This chart shows the number of investment advisors who are bearish on the
stock market.
Sentiment is often considered to be a contrary indicator. That is, when
investors are overwhelmingly bearish, the stock market often rallies. And
when investors are very bullish, look out below.
We can see this dynamic on this chart. Sentiment was quite bearish as the
stock market bottomed in March of 2009. And we can also see that sentiment
was very bullish in January 2010, right before the S&P 500 tanked.
Now, it's clear that sentiment is most useful when it is at an extreme. So
I'm not sure that the current reading is particularly helpful for determining
what the stock markets' next move will be.
Still, the takeaway from this chart is that investors tend to react instead
of anticipate. Even though we all know that Wall Street is fallible, it's
hard to go against the authoritative voice of analysts and strategists.
My message to you today is: trust yourself and your judgment. And remember
that the stock market and the economy are two different things.
*****I'm curious to hear whether you're bullish or bearish on the stock
market. The Wall Street Journal has the current P/E for the S&P 500 at 17
and the forward P/E based on earnings estimates at 13. Let me know what you
think at [email protected]
*****Big Oil is reporting good numbers so far. Exxon-Mobil (NYSE:XOM), Shell
(LSE:RDSA.L) and BP (NYSE:BP) reported good numbers. But as you know, I'm
waiting for the Bakken oil producers to report.
Well, we got one of them this morning. Whiting Petroleum (NYSE:WLL) beat
earnings by $0.19 and beat revenues by a decent margin as well. The stock is
up nearly 6% in the early going.
Now, Whiting is not a pure play on the Bakken oil pool. Still this bodes well
for the Bakken stocks in the Energy World Profits portfolio. You can buy into
the Bakken for under $4 a share, details HERE.
Until tomorrow,
Ian Wyatt
Editor
Daily Profit
P.S. Update at 4:40 p.m., 07/29: my inbox was flooded with comments on this.
Check them out
HERE.