Success is sometimes a curse.
Just take a look at Apple (NASDAQ: AAPL).
No doubt it is the undisputed king of consumer electronics. Over the past year, the company has sold about 220 million phones at $650 apiece.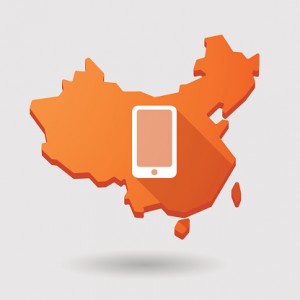 (The unveiling of the iPhone 6S today can make you rich. Here's how.)
But Apple's market dominance has only served to raise expectations sky high from both analysts and investors.
This was pointed out in a Sept. 7 Lex column from the Financial Times. It observed that in order to meet the revenue growth targets for the next 12 months, Apple must have 95% of the buyers two years ago buy a new iPhone – and sell another 80 million iPhones to first-time customers.
That may be a whole lot tougher, thanks to the easing in Chinese demand.
China's Smartphone Boom Finally Slowing
You see, a lot of the growth in Apple iPhone sales in recent years came from China.
As recently as 2011, China accounted for just 9% of Apple's revenues. But now it is over 20% and still rising smartly. Sales to greater China (including Taiwan and Hong Kong) totaled $13.23 billion in the most recent quarter.
Those figures are not surprising, considering China received one-third of all new smartphone shipments in 2014. Smartphone shipments rose 19.7% overall for China in 2014, according to International Data Corporation (IDC).
But growth in 2015 has nearly stopped. Smartphone shipments are forecast by IDC to rise only 1.2% this year.
And in the second quarter of 2015, smartphone sales actually fell by 4%. That was the first year-over-year decline in six years.
The reason behind the drop really isn't the slowing Chinese economy. It's saturation. Nine out of 10 people living in China's major cities already have a smartphone.
Chinese Rivals Gaining
Life is also being made difficult by the rise of domestic smartphone makers in China. Long gone are the days of the shanzai, or cheap knockoffs.
Using nicely made and smartly priced products, Xiaomi Corporation and Huawei Technologies have vaulted into the No. 1 and No. 2 market share positions, respectively.
Apple is No. 3 at 13.5% for the first half of the year, according to Gartner. But Samsung Electronics (OTC: SSNLF) has completely disappeared from the top five. No. 4 and No. 5 are also Chinese companies.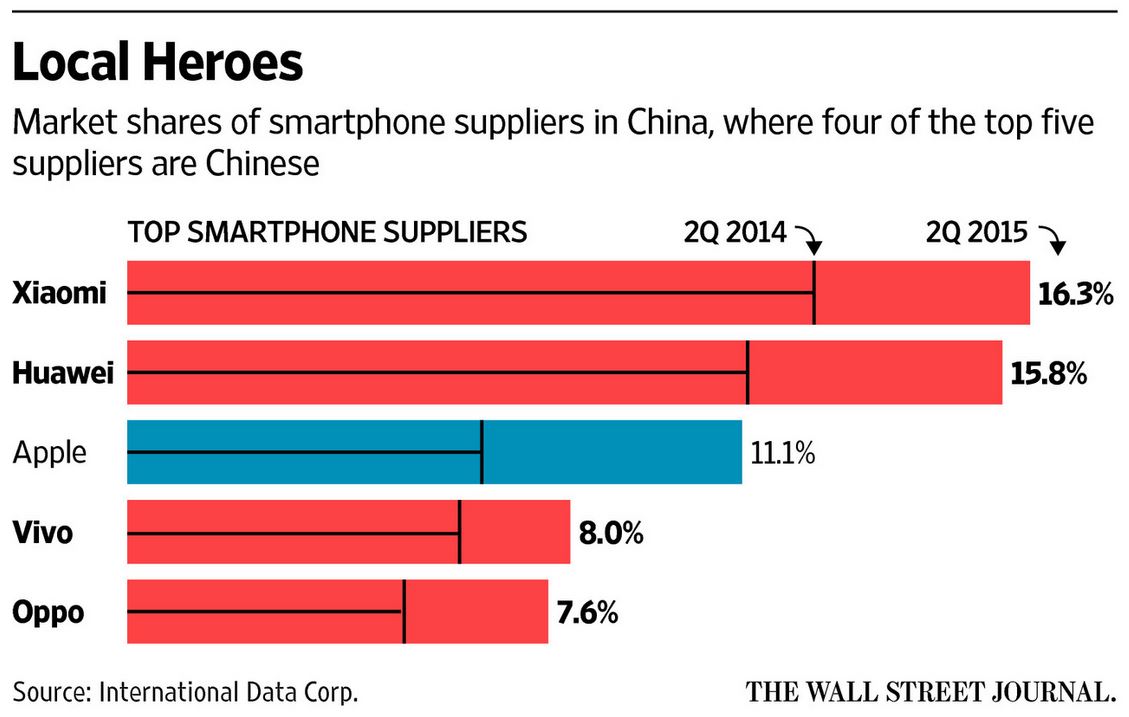 Apple Needs to Look at Other Emerging Markets
But that doesn't mean the growth gravy train overseas is over for Apple. The company needn't fall prey to a China syndrome.
China will remain the largest smartphone market for the foreseeable future. Demand in China will probably rebound too. The smaller cities in China aren't close to reaching a saturation point yet in smartphone sales.
But Apple has to be smart, as it always has been. It has to look for growth in other emerging markets.
The market with the most potential upside is India, with a population of more than 1 billion people. By 2017, it is forecast to become the world's second biggest smartphone market, surpassing the U.S.
Apple's market share there currently is a miniscule 1.8%. Second-quarter growth in India for Apple came in at 93% year-over-year. That's something to build on.
At the moment, Indians seem to favor Samsung and various local brands such as Micromax. But Apple could become "local" by moving some of its manufacturing facilities to India.
Apple, as usual, is hush-hush on its strategy for India. But don't be surprised if its next big push overseas is into India.
If it becomes as successful there as in China, Apple shareholders will keep smiling for years to come.
(And they're not the only ones. That's because every time Apple releases a new iPhone, shares of this little-known company soar as much as 200%. Find out why before the iPhone 6S is unveiled today.)