The market for cannabis CBD is red-hot . . .
As CVS, Rite Aid and Walgreens start stocking CBD products this month. Plus, Amazon just added +9,000 CBD products to its online store.
Click here to invest in America's #1 hemp grower.
Right now, you can secure shares for less than $2.50!
Plus, you'll claim FREE bonus shares at no extra cost. Go here ASAP for details.
CBC Canada reports, "Retailers struggle to keep CBD on shelves."
And CNN says "These hemp farmers are getting rich with CBD." For farmers, growing hemp is a booming business. And it's much more profitable than growing corn or soybeans.
Here in the U.S., sales could surge . . .
From $591 million last year . . . to $22 billion within just three years!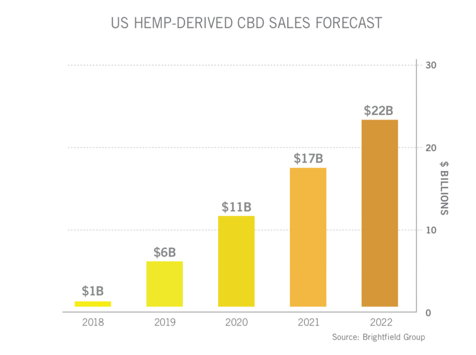 Demand for hemp is surging. And American growers will thrive if they are set up to grow at a large scale (click here for my #1 hemp grower).
Today, CBD is getting most of the attention.
For growers, the next generation of hemp will be even more profitable.
It's called CBG.
It's the precursor cannabinoid to both CBD and THC. And it's currently being researched for a wide range of uses including psoriasis, eczema and as a cosmetic additive.
CBG is essentially the next type of cannabinoid that will be researched, developed and put into thousands of mainstream products.
Today, production of CBG is very low. And that means prices for CBG are five times higher than CBD!
Consider these numbers:
One acre of farmland planted for CBD will generate $61,380 in revenue.
Yet that same acre planted with hemp for CBG will earn $306,900!
That's one reason that one of America's biggest hemp growers is getting into CBG.
This year, this hemp grower is using one-third of its acreage to grow CBG and two-thirds to grow CBD. As a result, the company should turn a huge profit.
For example, 100 acres planted for CBG could generate a gross profit of $86 million!
One Oregon company is currently growing on 1,500 acres in Colorado, Kentucky and Oregon.
And it estimates that the 2019 crop of hemp – for CBD and CBG – will generate sales of $204 million!
You can become an early investor when you click here now.
That's because the company's Pre-IPO is now open. And that means you can secure shares for less than $2.50.
The company's planning a big IPO on the NASDAQ later this year. And rumors suggest that Cowen & Co. and Roth Capital are both bidding to lead the IPO.
Unlike many other cannabis companies, this hemp grower could list directly on a major U.S. exchange . . . and quickly attract attention from investors (much like Tilray did last year).
Go here ASAP for urgent Pre-IPO details.
Yours in Profits,
Ian Wyatt