One Amazon vice president just resigned . . .
To become the CEO at a brand-new marijuana company.
He's the latest technology executive to realize that cannabis is the next huge growth trend.
Legal cannabis will be a HUGE $100 billion market. But my #1 Big Trade for 2019 could be even more profitable in the next 60 days!
Click here for urgent details.
During his 19 years at Amazon . . .
Tim Leslie served in a wide range of roles including Associate General Counsel, VP of International Legal . . .  and VP of Amazon Prime Video.
Leslie joined Amazon just two years after the company went public in an IPO. And you know this stock has been a top performer.
In fact, a small $1,000 investment in Amazon's IPO would now be worth $1.1 million!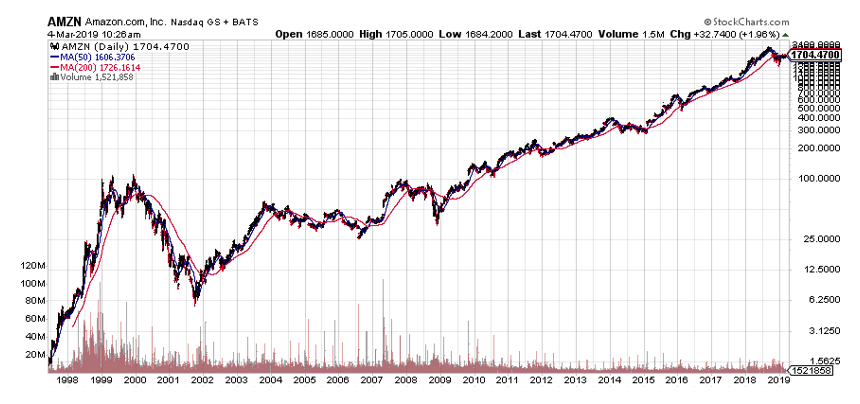 Yet with shares trading at $1,704, Amazon's upside looks more limited.
That's why this Amazon executive is leaving the world's No. 1 e-commerce company. And he's getting into legal cannabis.
Bigger Than Legal Cannabis? Click here for my No. 1 Big Trade in 2019.
This morning, Leafly announced that Tim Leslie is the company's new CEO.
Leafly doesn't grow marijuana in greenhouses. Nor does it sell the product through retail stores.
Instead, it's a technology company that helps people find the right cannabis products. The company's website and mobile app provide reviews and access to a wide range of cannabis products – including products with CBD and THC.
It's similar to restaurant review website Yelp.
But instead of helping you find a coffee shop or restaurant, Leafly helps you find cannabis products.
Today, Leafly is a private company. And the hiring of Leslie could be a final step before an initial public offering.
In fact, Leafly is 100% owned by a cannabis private equity firm called Privateer Holdings.
Privateer famously founded Tilray (NASDAQ: TLRY) and took the company public in 2018. You'll recall that Tilray shares went public at $17 – and rose to $300 within a few months.
Privateer Holdings owns 75% of Tilray's publicly traded stock with a value of $5.5 billion. Plus, the company has a total of seven private companies in its portfolio.
Following the successful IPO of Tilray, Privateer may be looking to take Leafly public.
The addition of a world-class CEO could help that happen in 2019.
Leafly is one private pre-IPO situation that I'm watching right now. And you'll be the first to know once this is an actionable opportunity.
My No. 1 Big Trade could be even bigger than "pot stocks" in 2019.
Go here now for urgent details.
Yours in Profits,
Ian Wyatt