Many investors don't know that mid-summer is typically the
beginning of the bullish season for gold.
Here's what I mean:
July 1, 2010 – Gold starts to rally, rising around 12% by
November…
July 1, 2011 – Gold starts to rally, rising around 17% by
November…
While gold has been in the dumps so far in 2012, these numbers show
that early-year weakness is the norm, and that historically this pattern
begins to reverse by mid-summer.
And when gold starts to rise, the best gold mining stocks tend to
go up even more.
I've been following gold miners closely this year. We just got one
of the signs I've been waiting for that it's time to dip a toe back into
gold miners in time for the late-summer rally.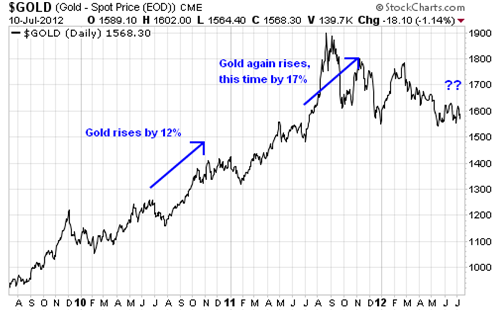 In a piece I wrote back in May,
How To Play The Gold Rout, I suggested that,
"The rout in the mining sector isn't going to end in one day.
But we will see capitulation at some point. History suggests that we are
getting close – all else being equal. Look for signs of majors buying
juniors as one signal. And play the trend by buying those with production
growth to get the best reward, with the least downside risk."
On June 18 we got this signal when Yamana Gold
(NYSE:AUY) offered to purchase Argentina-based
development company Extorre Gold (NYSE:XG) for $403.6
million.
In the Extorre deal, Yamana is paying just shy of $300 per ounce
for Extorre's