North America's largest operator of chemical and intermodal ISO bulk tanks is going on sale.
After a 25% pop to start the year, sellers have dragged the shares of Quality Distribution (NASDAQ: QLTY) lower from a $14.61 peak. Though the stock is down for the year, I expect the shares to rebound in the second half.
The fall in oil prices spooked investors. Since many people feared the decline was tied to an economic slowdown, quality stocks fell.
Quality Distribution is a great company that had its shares fall. Though sellers may take the stock lower, I will be watching the long-term support area near $8 (blue line) for a swing low.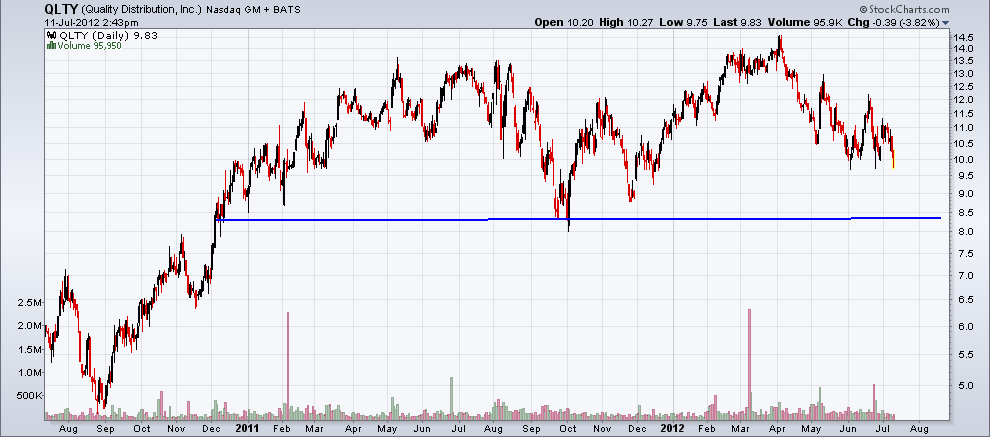 This chart shows the price of QLTY shares along with an important support area for you to monitor.
What makes this a great stock to own near $8? Quality Distribution has two advantages over the competition. Let me explain …
Unlike most truckers, QLTY doesn't actually own trucks. Instead, it manages a large carrier network.
By managing through an affiliate network, Quality Distribution avoids high costs such as tractor purchases, maintenance, terminals and fuel. It's able to focus more resources on driving new sales and lowering back office costs.
In addition to the low-cost business model, Quality Distribution is moving into the lucrative oil and frac-shale energy industry.
Late last year, QLTY won a multi-year contract to provide fresh and disposal water hauling services in the Marcellus shale. The company also began hauling oil in the Eagle Ford shale region of Texas.
As America seeks energy independence (something I believe is vital for the economy), drilling will increase significantly in the Marcellus, Bakken, Eagle Ford and Barnett sites. This increased production will lower energy costs and drive job growth for America.
More importantly, the extra drilling will facilitate the need for increased shipping to refineries and more water and disposal water hauling. This could mean bigger business for energy transportation companies because the explicit price of natural gas or oil is not nearly as important as volumes produced.
Quality Distribution stands to benefit through its transport business as the U.S. economy recovers and shipments increase. Also, the company is aggressively expanding in the energy transport business, which will thrive as America positions itself toward independence from foreign oil.
Equities mentioned in this article: QLTY.